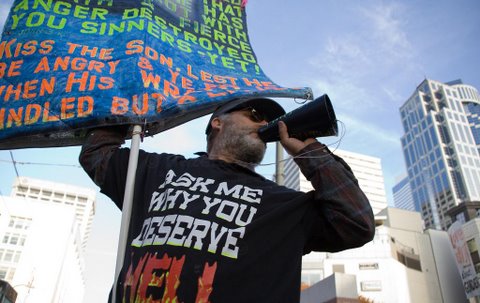 Tom Briggs and Salt Ministries hosted and trained with The Elijah Challenge in January 2009

Symptoms of fibromyalgia disappear from car accident victim
February 19, 2009
"I am pleased to share yet two more testimonies of Jesus' proving Himself alive in the context of evangelism, and one-to-one humanitarian ministry.
This afternoon I went to a corner in Covington, WA for the evening commuter traffic, when a homeless lady begging for change approached me asking for prayer. (I have my 'advertisement' sandwich board next to me as I stand up on my plastic milk crate from which I raise up my BIG banners with Bible verses and provocative statements). I got down and asked what her pain was. She had fibromyalgia from a car accident injury, and she suffered from back pain.
I laid my hand on her lower spine (while still holding up my Bible banner in the other hand) and rebuked the infirmity, pain, and commanded healing to her back IN JESUS' Name! She looked pleased, and reported 60% of the pain left. I commanded again. She bent over at the waist, and TOUCHED HER TOES without pain! Then the police showed up because a cell phone call came in saying I was in the middle of the intersection jumping and yelling at cars, etc.! The officer apologized for interrupting us, but was required to check me out knowing I was innocent (he had already driven by me twice earlier). I told the policeman this lady just got healed by Jesus from fibromyalgia. He took her aside, so I got back up on my 'pulpit.'
On the way home tonight, 20 minutes ago, I stopped at Safeway for Half 'n Half. I got out of my pickup and a jittery man apologetically approached my asking for help. He and his wife were homeless, had lost their home in Kent, WA, were out of gas and sleeping in their car. I gave him a blessing ($$), and asked if he needed prayer for the shaking. He said, "Please…I have Crohn's Disease.
I laid both hands on his head there in the parking lot of Safeway, rebuked the spirits of infirmity and commanded peace from his head to his toes. He STOPPED SHAKING IMMEDIATELY! I asked what happened. He said, I felt peace come over me. I gave him gospel tracts, but he was a Christian and started crying at God's answer to prayers to God for help. Finally God came through when he was very discouraged and scared. He hugged me and kissed my cheek with thankfulness to Jesus for answering his cry for help by sending me at just the right time and place for him. He began to shake again, but he knew "they shall lay hands on the sick AND THEY SHALL recover." He was going to keep thanking God for his healing, for he KNEW this was finally the end of his illness trial. He was very happy for God's faithfulness…in the Safeway parking lot!"