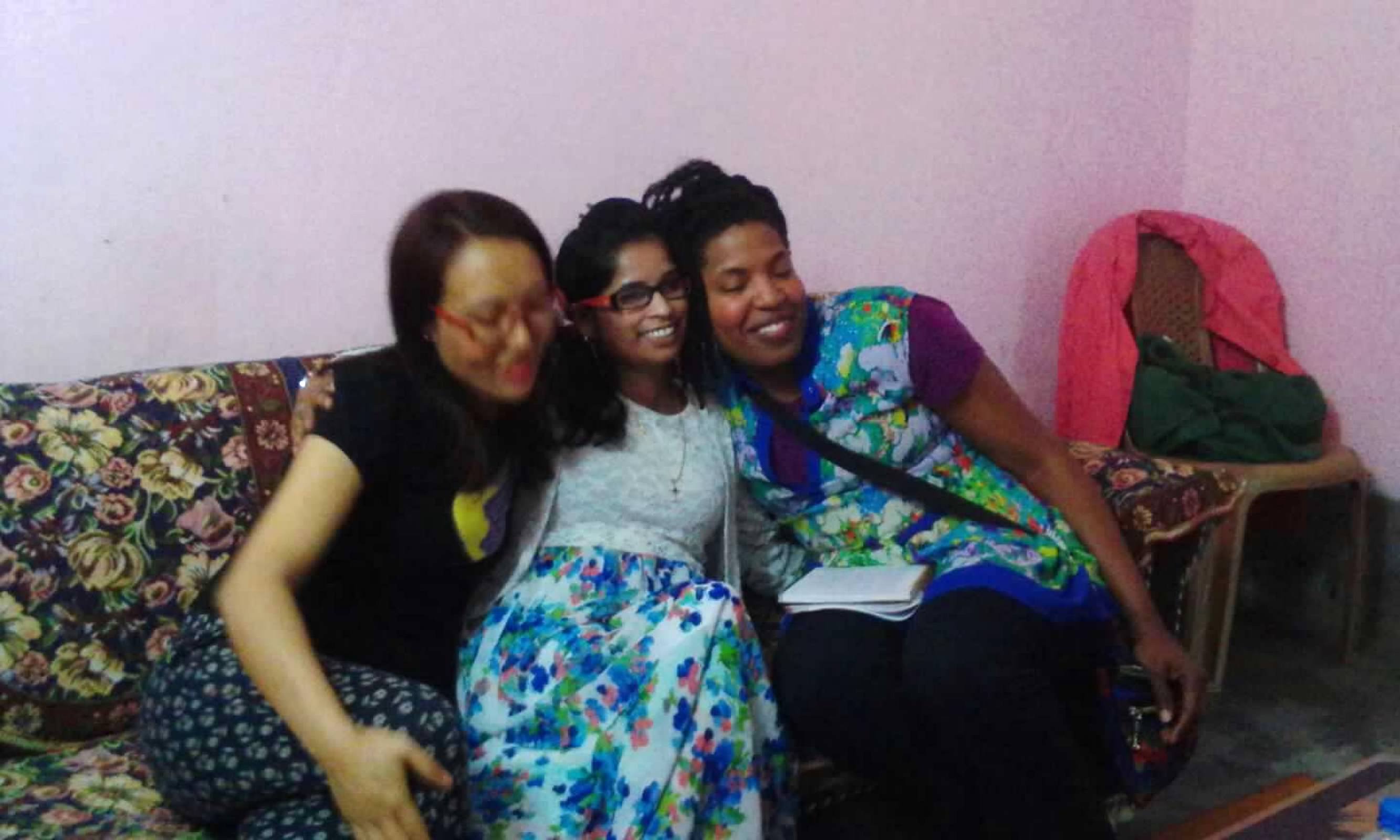 Above & below: Shar & local friends 
In March 2016 Dr. Gabriel ("Teddy") Murphy and his wife Sarhonda Brown ("Teddy & Shar") spent a week in India teaching The Elijah Challenge and preaching the gospel, hosted by Rev. Akon Bajronayak of Bless Assam Ministries.
Rev. Akon's report…
"Thank you so much for your love and and concern for our region of Assam. It was really a wonderful blessing for us to have Teddy and Shar with us. We were greatly encouraged and challenged by their life and ministry during this mission trip. We had one church service at historic Sivasagar Baptist Church (the very first Baptist Mission in Assam) on the 14th. Teddy shared the word and the Lord healed many sick people—those suffering from diabetes, joint pain, headache, back pain and someone crippled by polio was miraculous touched. More than 150 people attended the service and were blessed."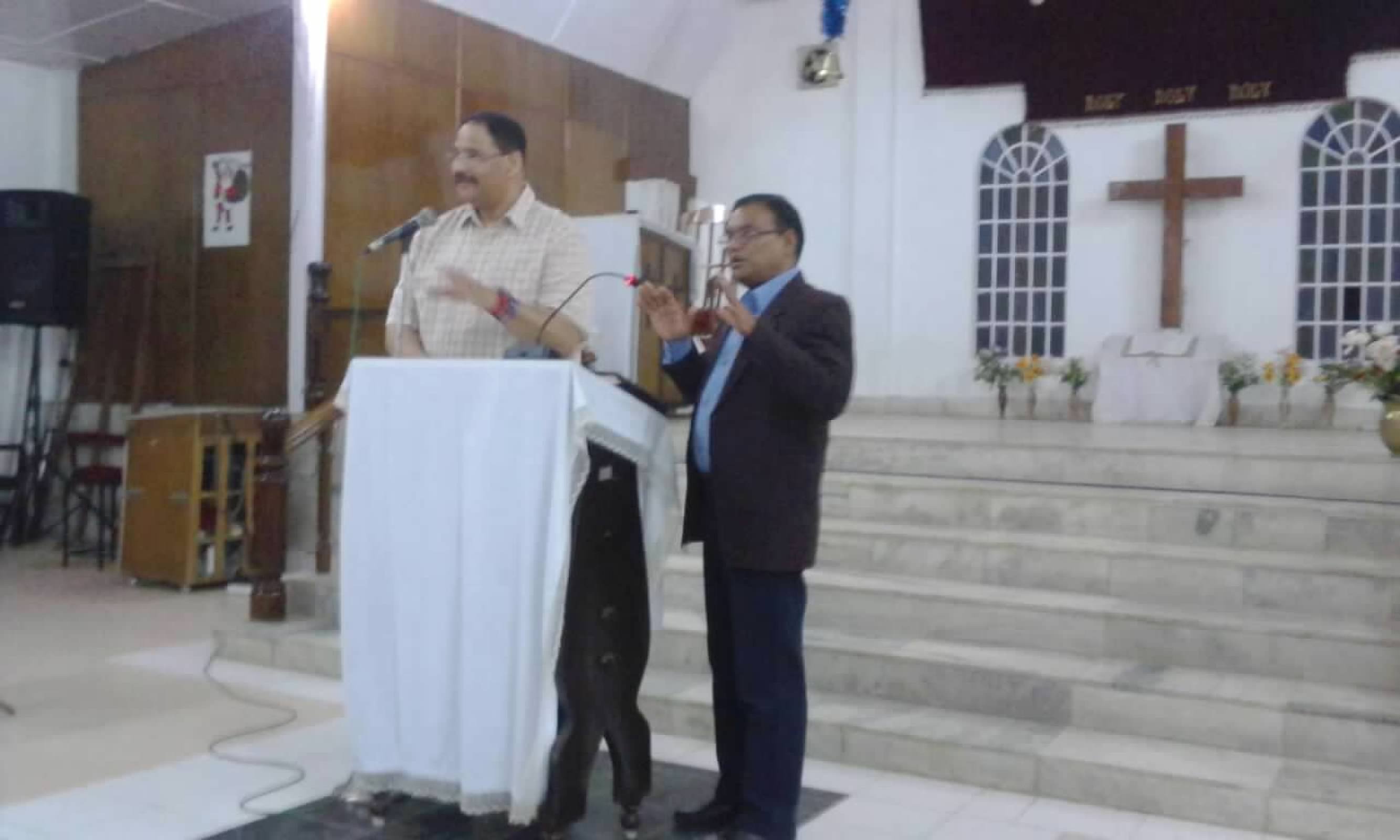 Teddy and Akon
"Our first Elijah Challenge Training Event was held at Nagadholi, Mariani with 60 pastors in attendance. Evangelists and prayer warriors also attended the Training. Sister Ange and Brother Tarun (Sister Mercy Konda's husband) joined in the ministry. The participants were greatly inspired by the wonderful teachings of Teddy and Shar. Moreover they personally experienced the power and authority of Jesus Christ. During the Training even some nonbelievers came forward for healing. The Lord healed them and and they accepted the Lord as their Lord and Savior. Many were healed from incurable diseases—arthritis, diabetes, tonsillitis, and 'pressure.' "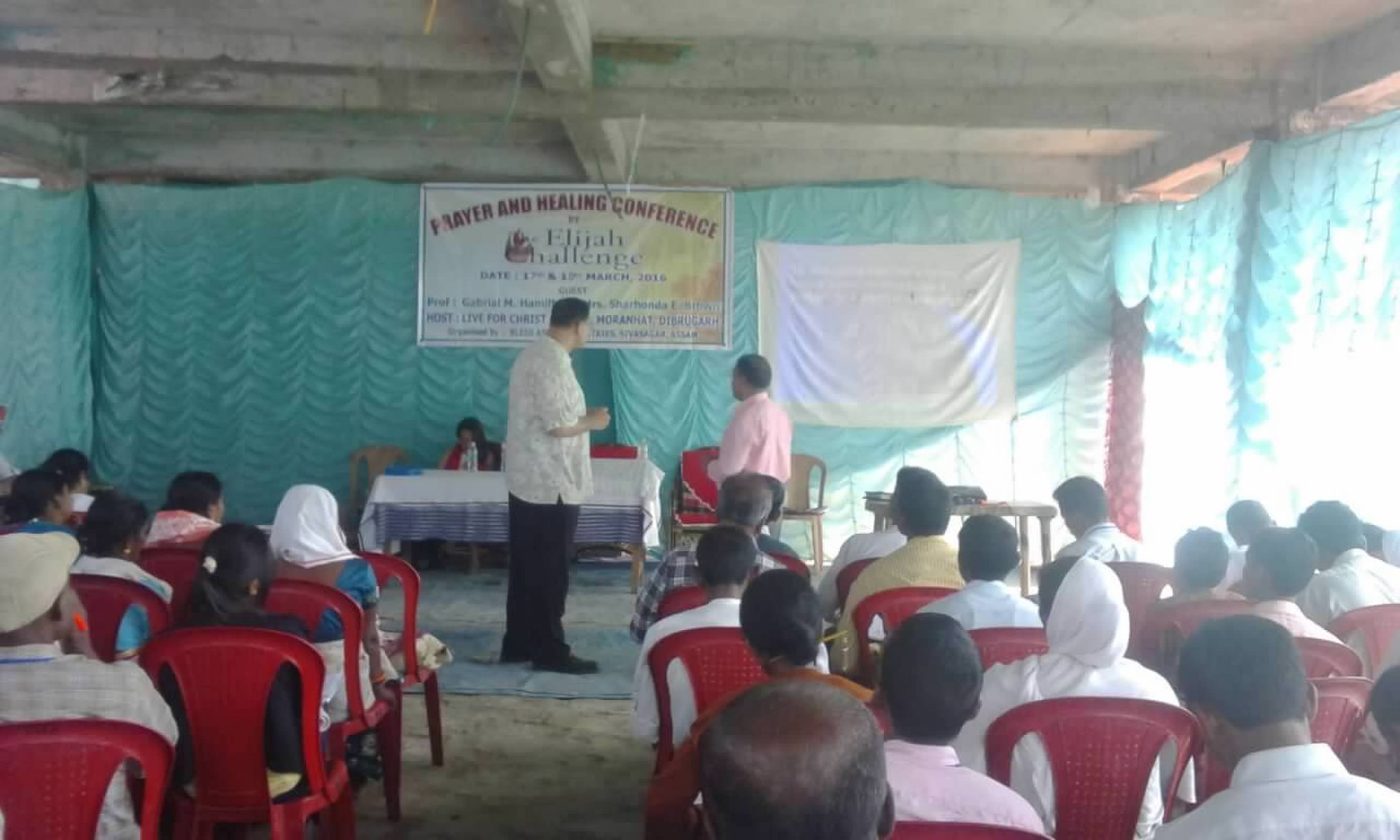 Teddy teaching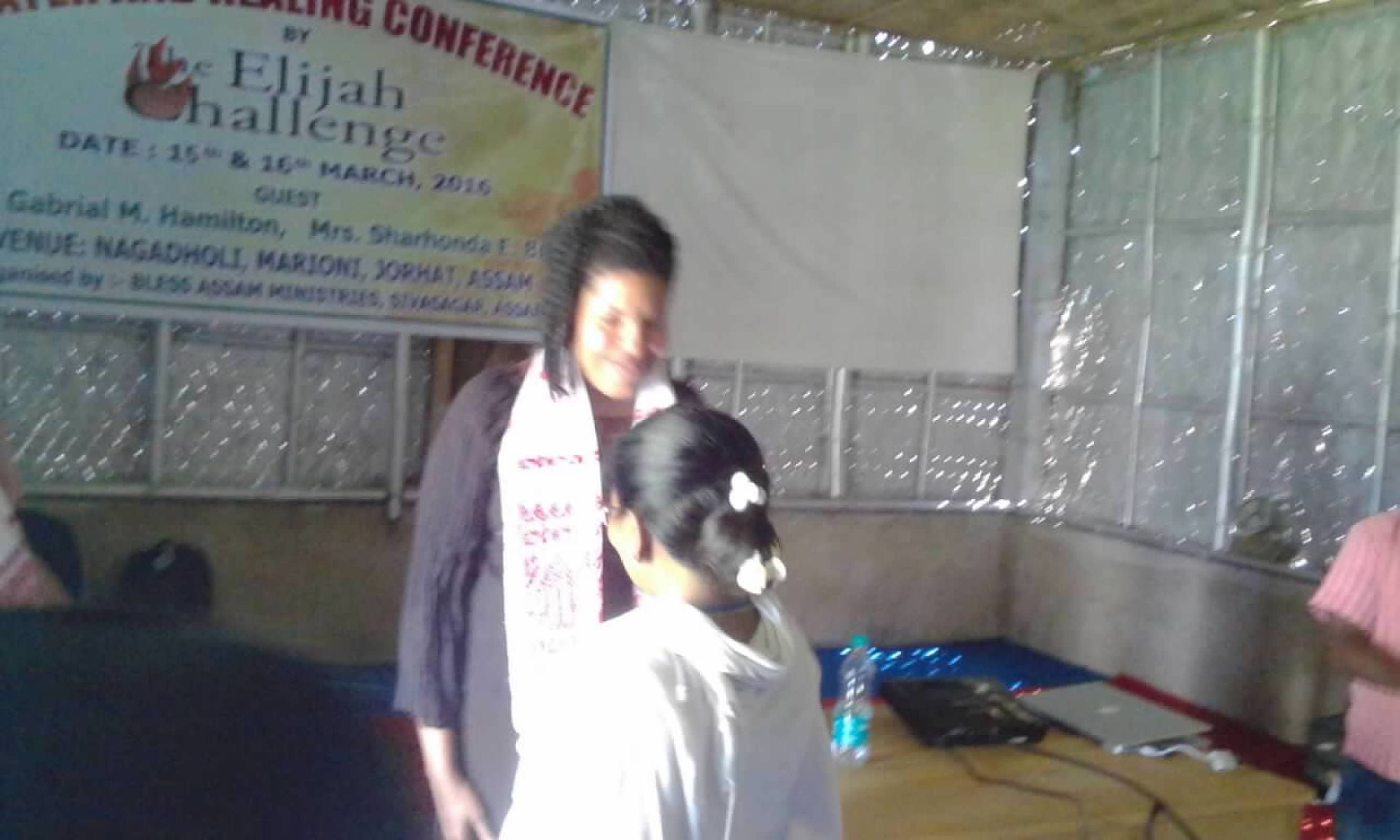 Shar encouraging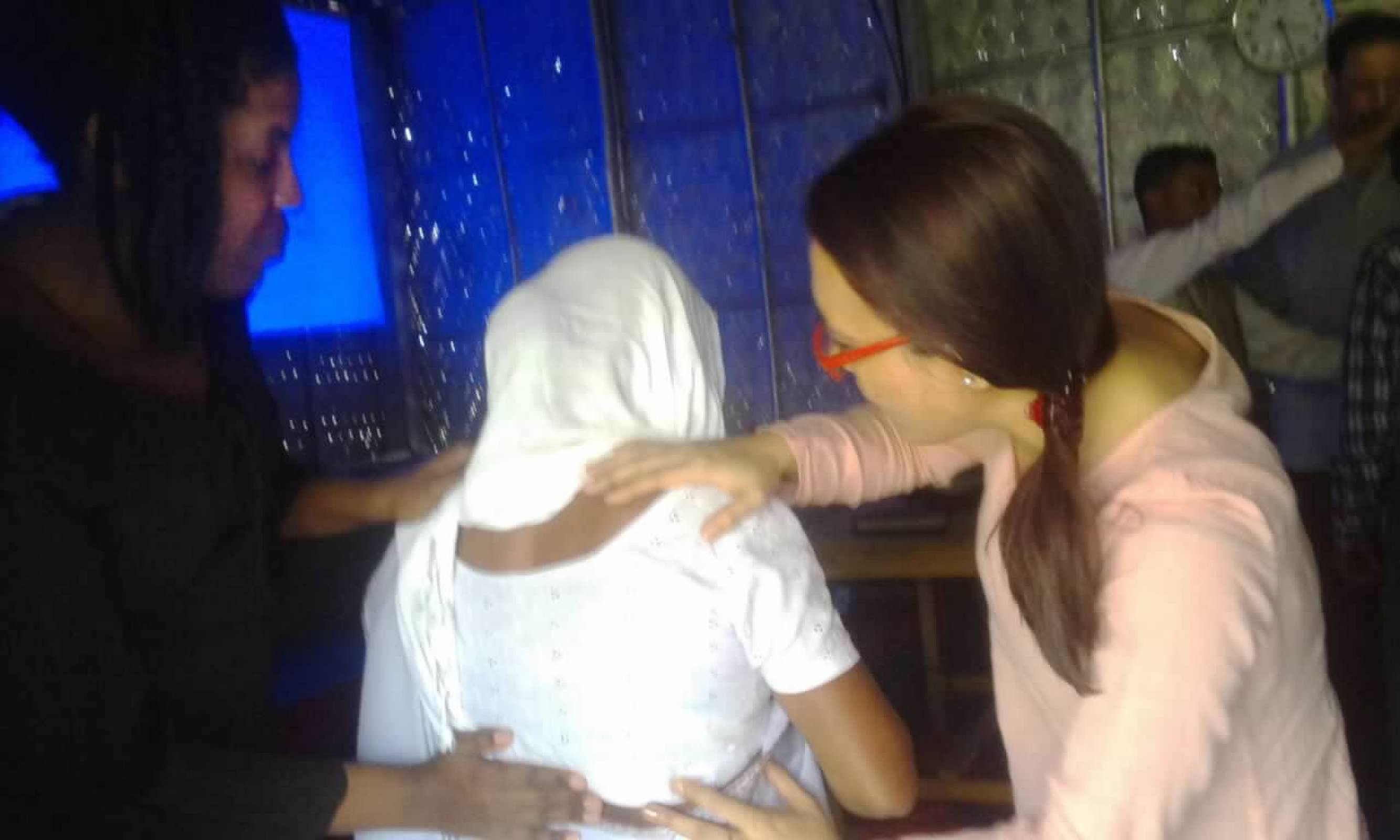 Shar & Ange ministering healing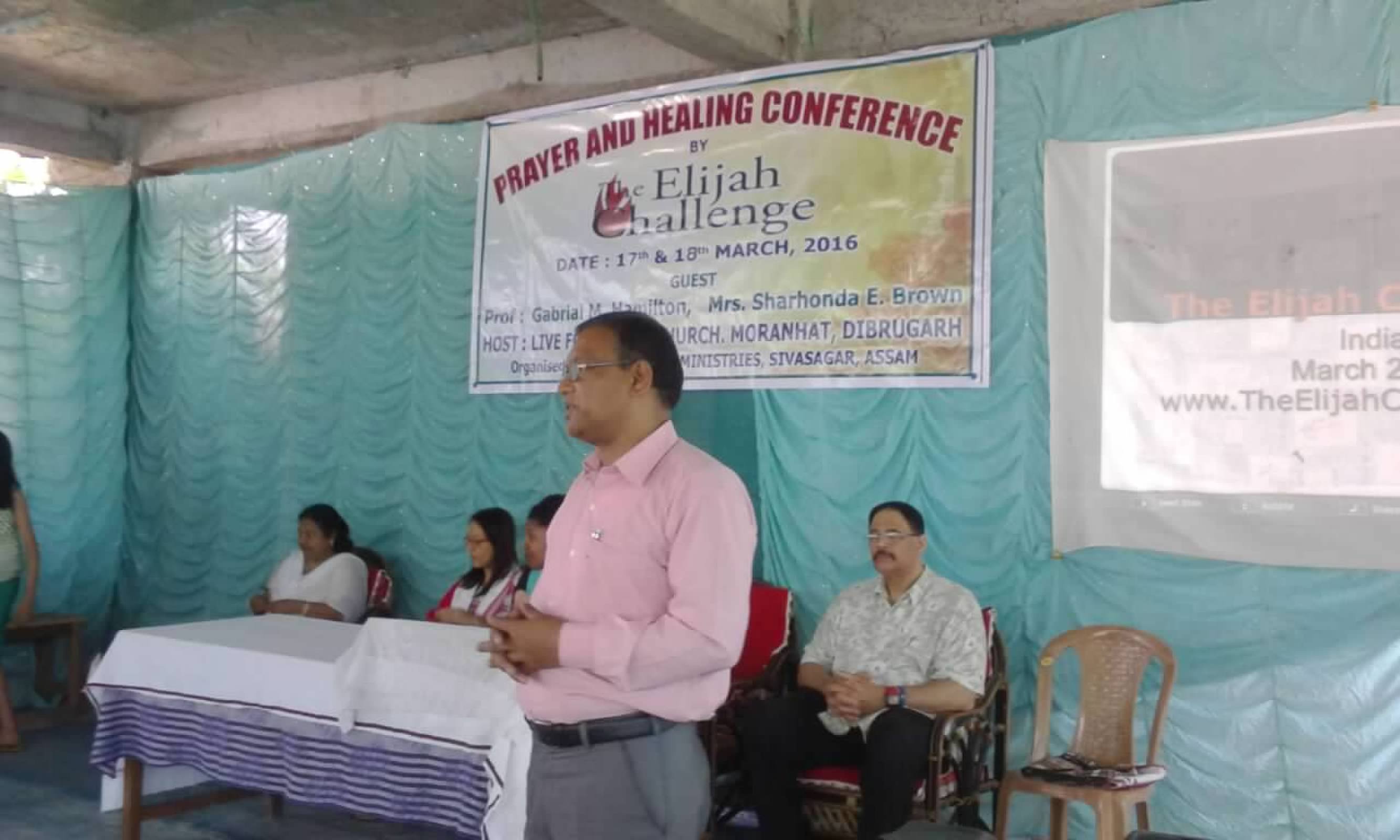 Testimony of healing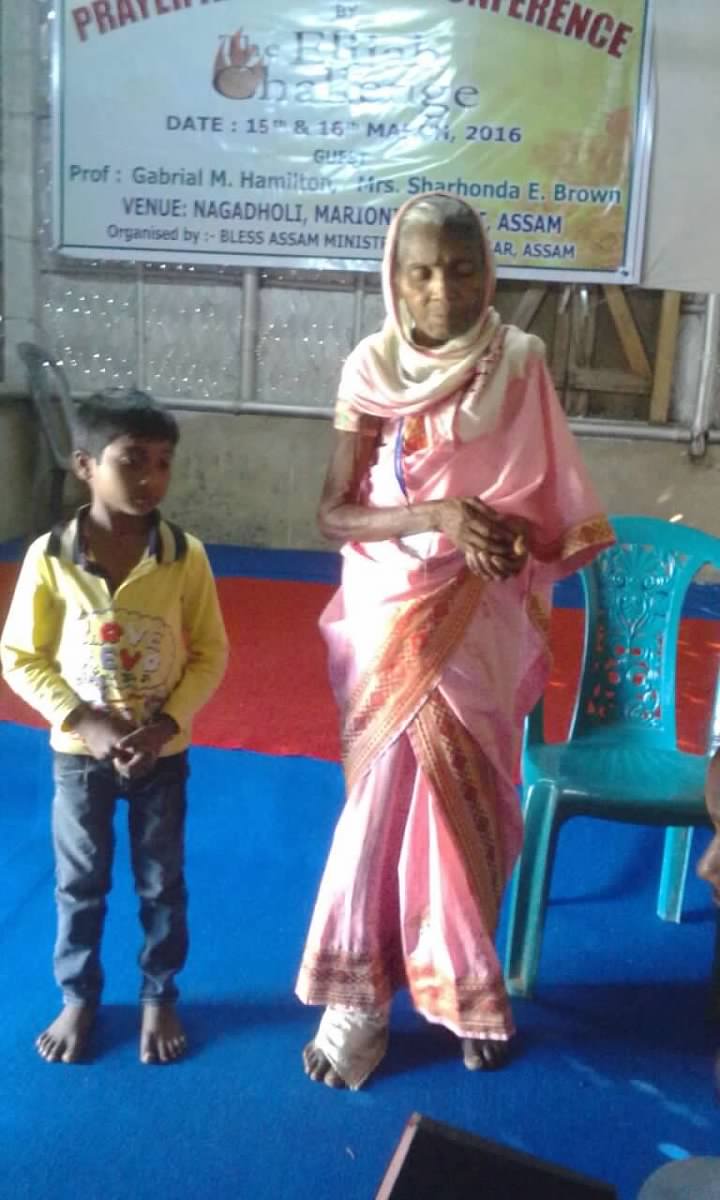 Testimony of healing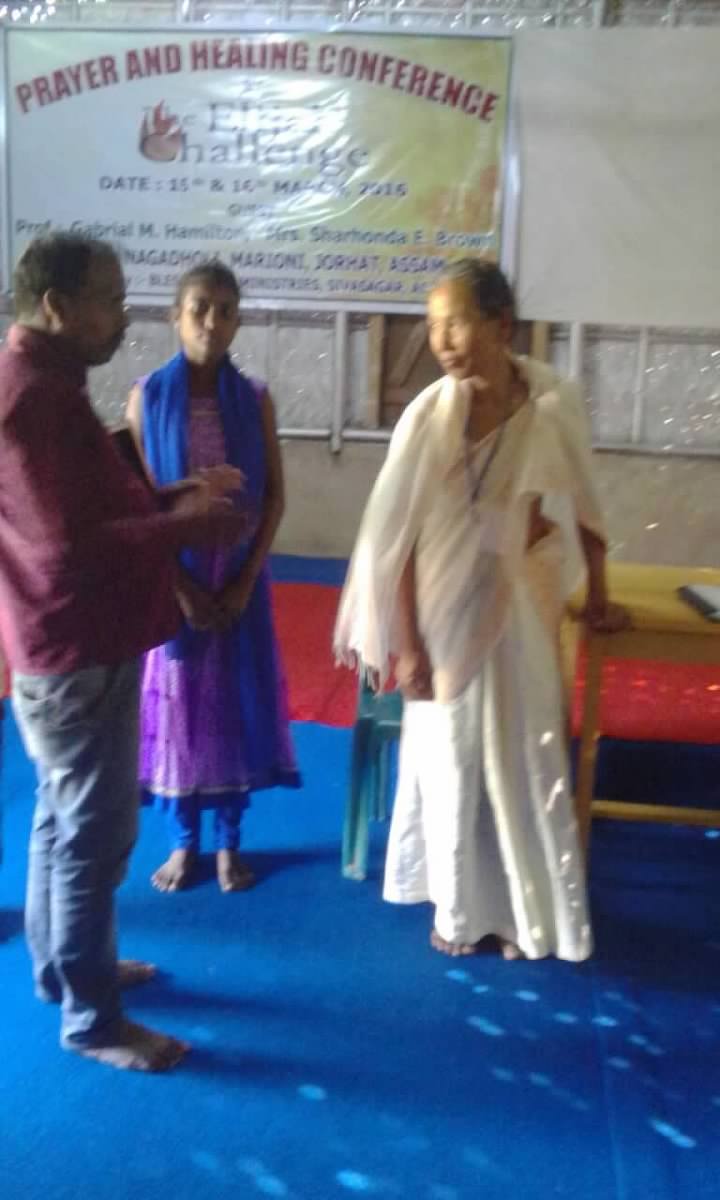 Testimonies of healing (above & below)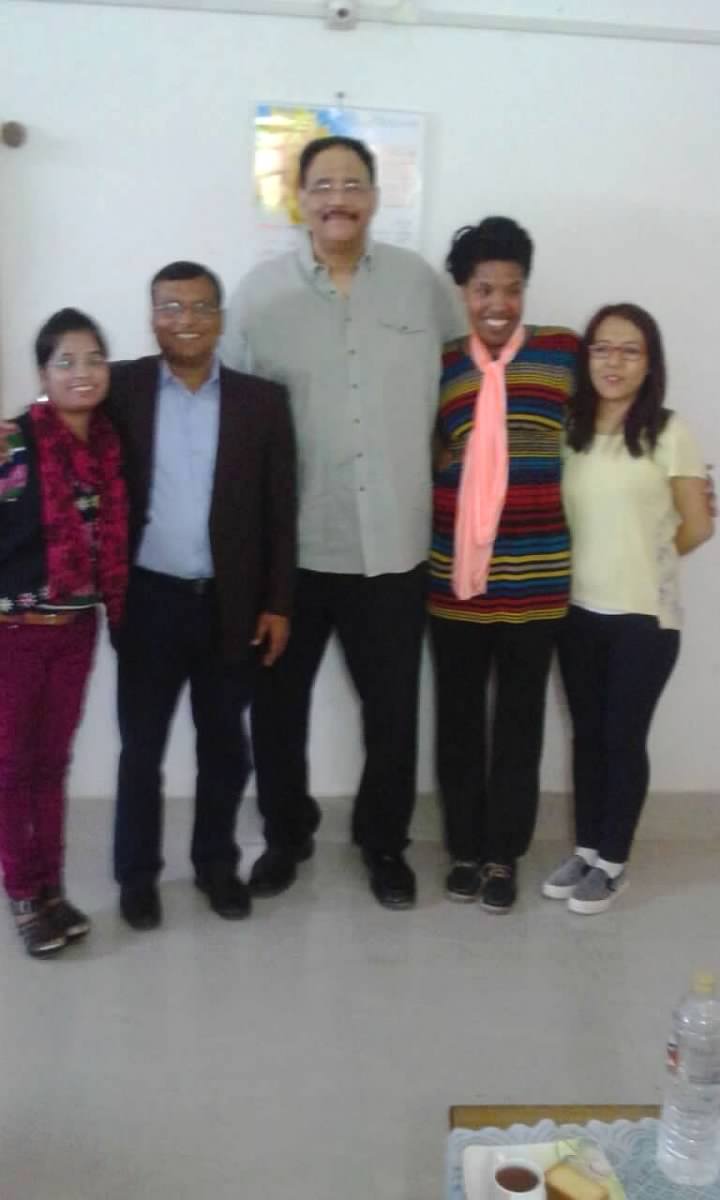 Shar & Teddy and the Elijah Challenge-trained Servants of God
"On the evening of the 16th we had an open-air evangelistic healing service at which many non-believers were in attendance. Teddy preached the word of God. Afterwards many people were healed from all kinds of sicknesses & diseases and set free from evil spirits. People were rushing to us from the surrounding area to be healed by the Lord, but it was already late at night and we had to leave. Many souls accepted the Lord."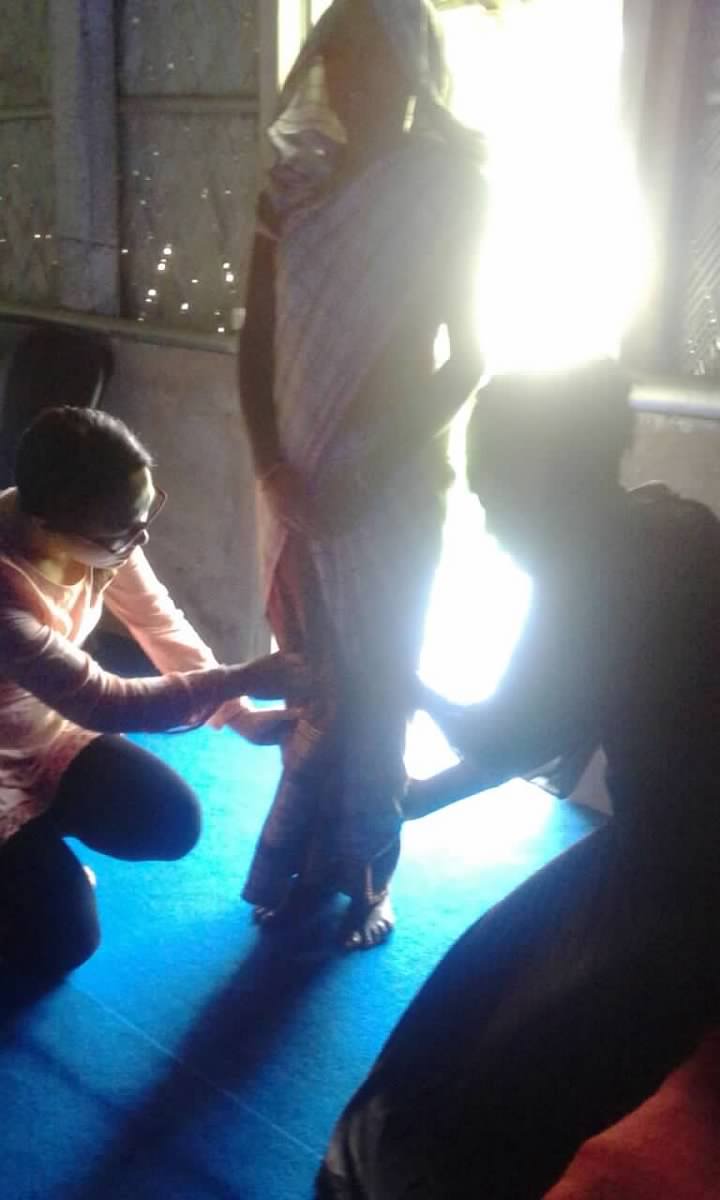 Shar and Ange minister healing with the laying on of hands
"Our second Training Event was at held at Moranhat in Dibrugarh (also in the state of Assam) on 17-18th March, organised by our ministry partner Live for Christ. More than 100 pastors, leaders, and prayer warriors were present. Evangelists were also in attendance. Sister Mercy Konda joined us and ministered. Sister Shar shared about holy living and relationships. Our participants were amazed and excited being exposed to such teachings since they were followers of traditional religion, albeit sincere. All of them were blessed by the truth, and saw and received light for their lives—serving the Lord with power and authority—a great transformation for their lives."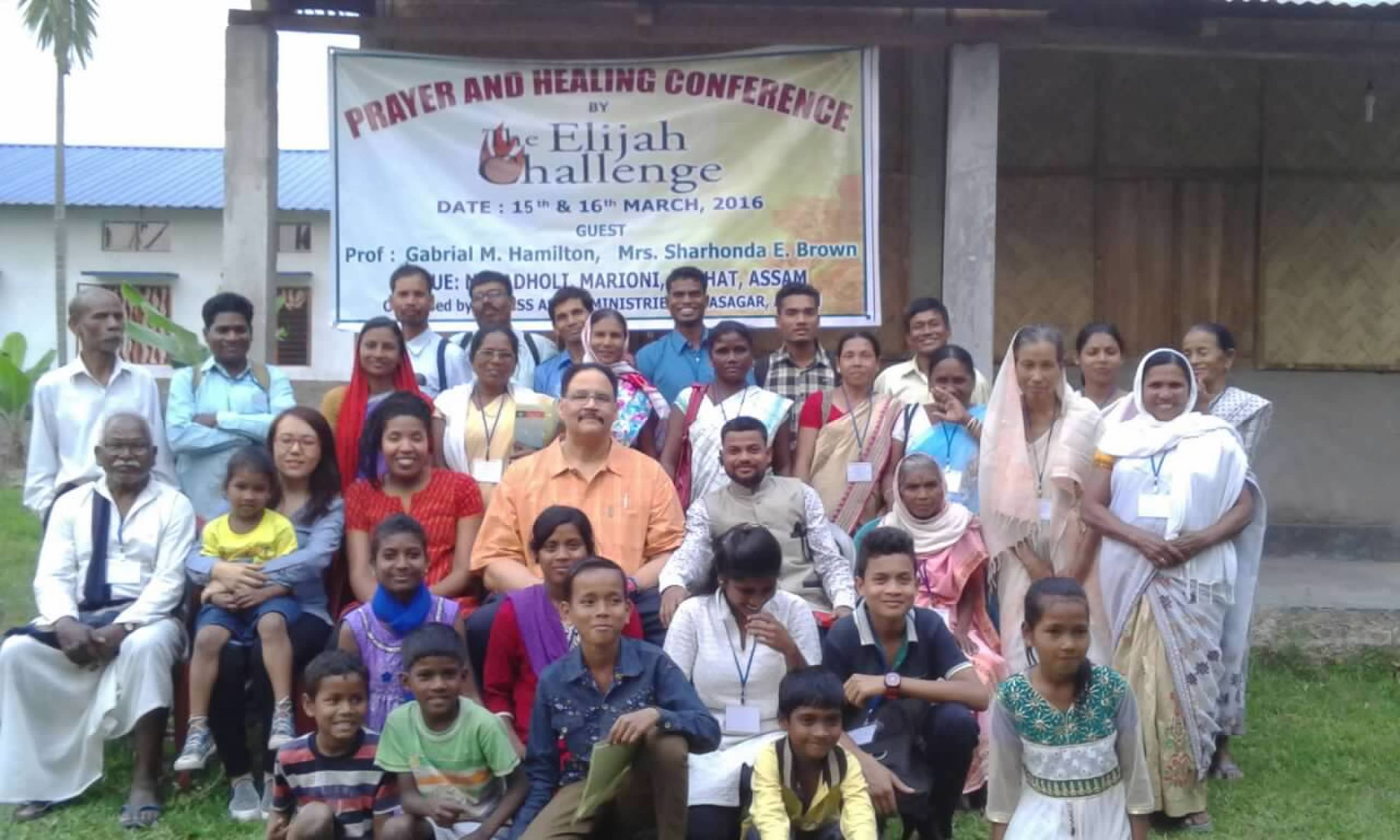 "Many participants from different denominations shared how this teaching has challenged them to serve the Lord by preaching the gospel and healing the sick with power and authority [as in Acts].
On the second evening we held an open-air evangelistic healing service. The Training participants ministered to the infirm. The crippled walked, and polio was healed. Those with demons were set free. All kinds of pain were rebuked and vanished. It was a great visitation of the Lord with miracles acknowledged by everyone present."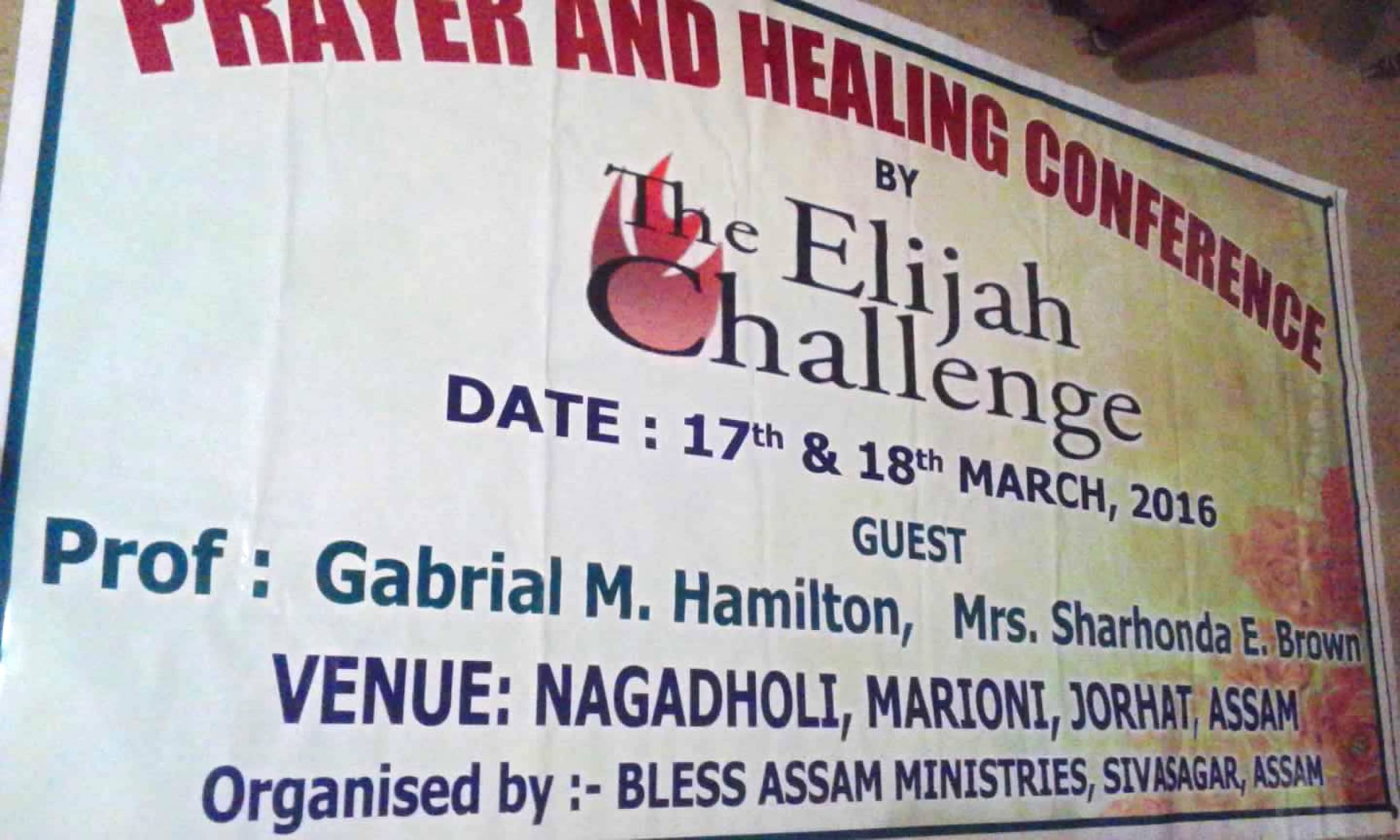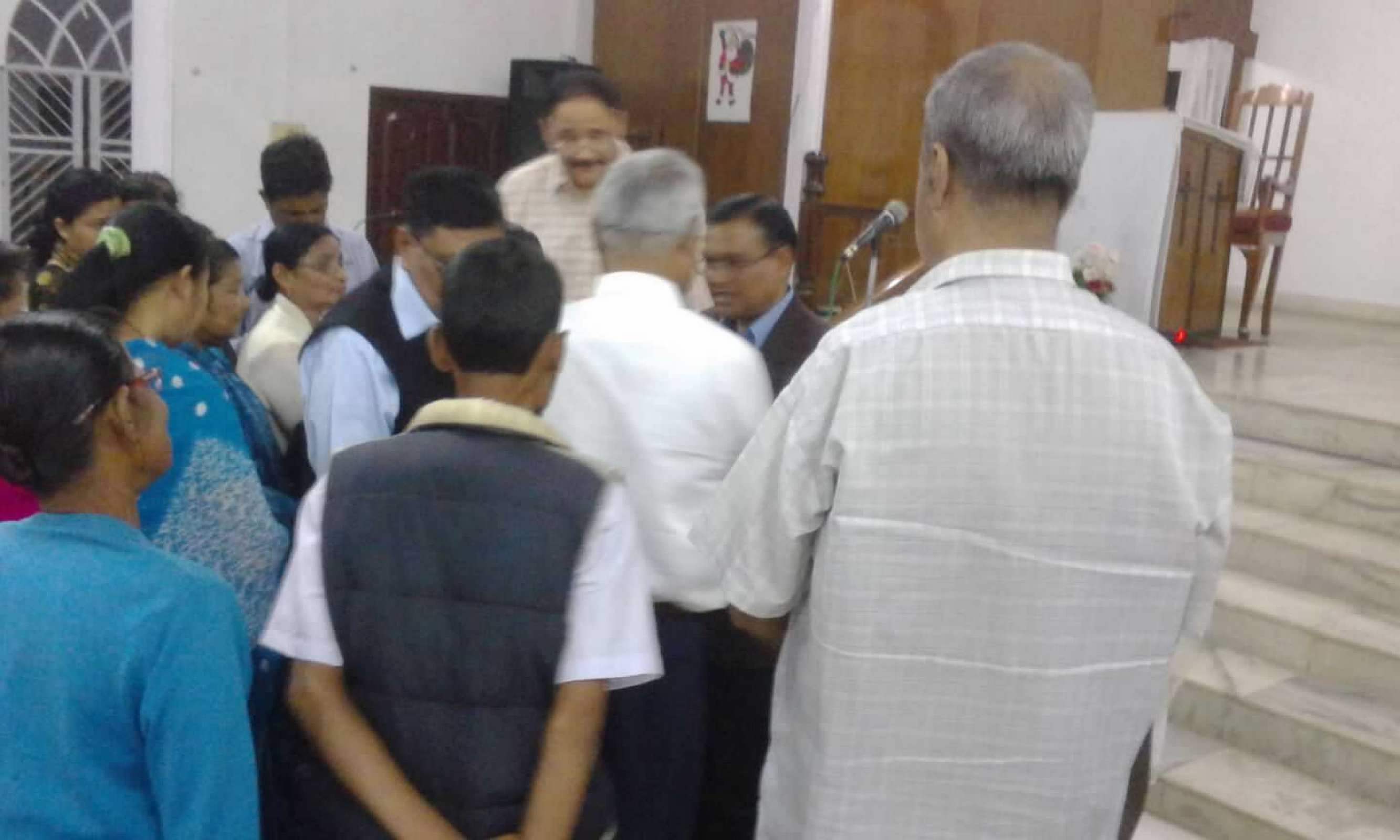 The infirm preparing to come forward to be healed in Jesus' name
while trained disciples line at the front up ready to receive them and minister healing to them
"This girl (below) was under the bondage of an evil spirit which caused epilepsy. She had been afflicted for nearly 18 years since she was a child. The Lord set her completely free from the sickness and demonization. Glory to God!"
"My sincere heartfelt gratitude and thanks [to The Elijah Challenge] for your love and support for His kingdom. Glory be to God. From Rev. Akon."