Reports: The Elijah Challenge in Brazil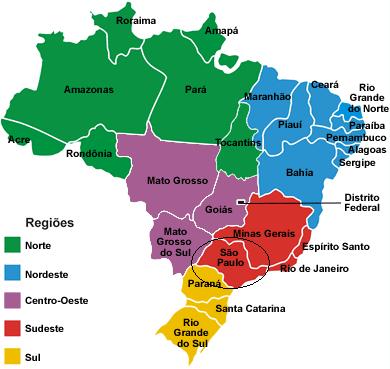 Presidente Prudente is located in São Paulo, a state in Brazil — the largest country in South America in terms of area, population, and economy. It has the fifth largest population in the world.


Igreja Casa de Oração Para Todos Os Povos
House of Prayer for All Nations Church is one of the larger churches in the city of Presidente Prudente. Their pastor is Brother Jeremias.


Day One: the Introduction
On Monday evening I introduced The Elijah Challenge to the large crowd which had gathered. After the brief introduction I did a demonstration of healing. A middle-aged to elderly woman with "sand in her knees" hobbled forward, barely making it up to the stage. She looked as if a puff of breath could knock her over. I had two sisters (one was Pastor Jeremias' wife) come up to minister to her. After I led them in ministering to her twice, she was jumping up and down effortlessly—a day and night contrast from her condition just a few moments earlier.
Then I had everyone with knee problems come forward, and I invited believers to heal them in Jesus' name. Many were healed, including four or five woman who had had severe knee problems. One woman had just spent a week in the hospital because of her knee condition. She had had her tube disconnected and checked herself out of the hospital to come to the meeting. At the meeting, "her faith healed her" (cf. Mark 5:34) as the disciples laid hands on her, and she went up to the stage to testify. I could see no trace of infirmity in her.
Day Two: Several people with heart conditions testify
On Tuesday night I first preached the gospel of Jesus Christ to the crowd. Then we asked the Lord to confirm the truth of the gospel by healing the sick in our midst. We ministered to the infirm in two separate stages. First I called for people with heart conditions to come forward. As the trained disciples at the front laid hands on them and exercised authority over their heart disease, many of them felt their symptoms disappear and then testified from the platform. After that for the second stage I had the disciples minister healing to all others who needed healing. Many more testified that they were healed during the second stage.
I told the crowd that the One who had healed their physical hearts is the One who could also heal their spiritual hearts and forgive their sin.

Day Three: 7 people with heart conditions not present at meeting miraculously touched by the Lord
After teaching how Jesus opened the ears of a deaf man, I asked people with hearing problems to come forward. Among others, a deaf woman was led forward. Two sisters ministered to her, one on each side. The Lord opened up her ears and her hearing was restored. She was so excited she couldn't stop smiling as she testified with her half-intelligible speech. Even after leaving the front to return to her seat she was sharing excitedly what the Lord had done for her.
After that we studied healing-at-a-distance according to the pattern of Jesus who healed the centurion's servant in Luke 7. To demonstrate this kind of ministry, I asked if any of the people knew someone who had a heart condition. Several of them raised their hands. Then I asked them to come forward to the front and then to call the people with the heart conditions on their mobile phones. I would lead the disciples to minister healing to them over their phones.
As I lead them in exercising authority from the platform, the disciples commanded the various heart conditions to be healed over their phones. At the other end, the people with the heart conditions listened.
Then I had the disciples inquire how the people felt. One-by-one each one of the disciples reported to us that the person to whom they ministered felt fine (their heart, that is) after we ministered to them at a distance over their cell phones. There were about seven testimonies altogether. This was the first time that we had ever done this.
Authority is not affected by distance or number. For example, a commander at Central Command in Florida can give an order to the many soldiers under his command in Afghanistan, and they will all obey his orders.
Perhaps this is one possible fulfillment of what Jesus said in John 14:12.
Verily, verily, I say unto you, He that believeth on me, the works that I do shall he do also; and greater works than these shall he do; because I go unto my Father.
As far as we know, Jesus ministered healing at a distance only to one person at a time, and only within the confines of Israel. (Luke 7; Matthew 15:22-28). But now His disciples can minister such healing without regard to number and distance. Instead of only Israel, the whole world is our mission field where we are to heal the sick and proclaim the kingdom of God until Jesus returns. And we can do this at a distance when necessary.
Day Three: Final Evangelistic Healing Service
At this meeting many people were healed and testified following the preaching of the gospel. One gentleman had a heart condition and risked sudden death if he tried to run or exert his heart. After the healing-at-a-distance he went outside the church and tested his heart. He ran and ran and ran, and felt fine. He returned to the sanctuary, mounted the stage and testified before the crowd through sobs of gratitude to the Lord.
One woman had had brain surgery and as a result suffered from severe memory loss. After the healing-at-distance her memory began to return. She climbed up to the platform and began to identify people, including the pastor.