Praise Report from Elijah Challenge Workers in India – May 2023
.
O LORD our Lord, how excellent is thy name in all the earth  Psalms 8:1
 .
May has been a wonderful and fruitful month for the ministry. Lord opened new doors and manifesting Himself to people through signs, wonders and miracles. The first gospel meeting and feeding event was held in a small village of Noorpur, District Phulpur, Allahabad, Uttar Pradesh. Pastor Shiv Prashad organised the first ever open-air gospel meeting and invited the entire village to the meeting. The meeting was attended by about 350 people. After Pastor Shakuntala shared the message of salvation and about 95 people came forward and accepted Lord Jesus as their saviour. Eight people were delivered from evil spirits. A young girl who came with oozing ear was instantly healed as the pus flow stopped immediately after laying of hands. Another woman with stiff hand testified that she could not hold anything in her hand was healed instantly and she testified to the crowd by lifting the bible with her hand. Another man who was born with a crossed eyes (Strabismus) was healed immediately after Pastor Shakuntala laid hands on his eyes. He received perfect alignment. His family came forward and testified. Many other testified of healings from pains, headache and migraine. Also, many people received the gift of tongues in this meeting. Praise God!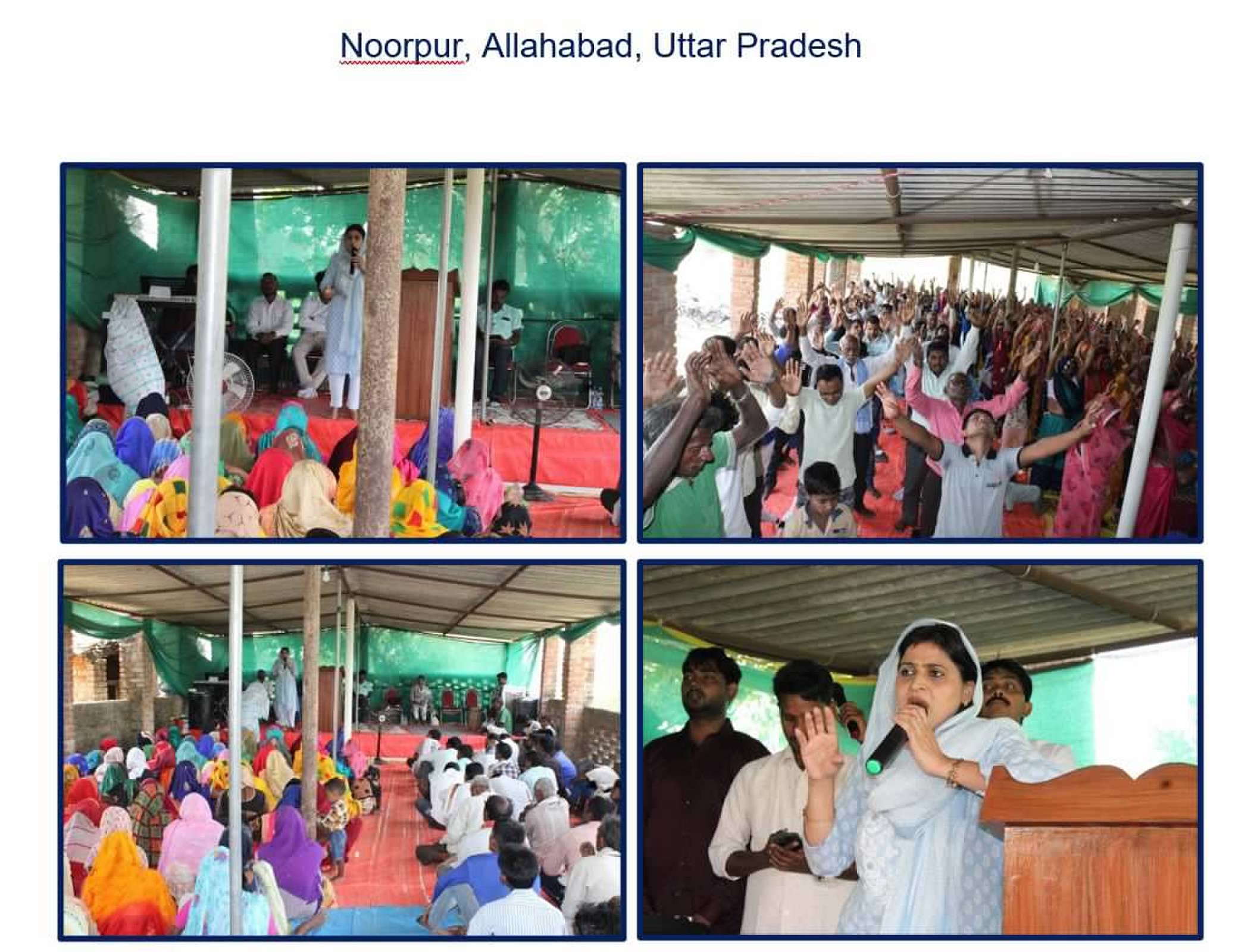 After two days another feeding event and gospel meeting was held at Prayagraj, Allahabad, Uttar Pradesh. Pastor Manoj organised this meeting which was attended by close to 300 people. Seeing the mighty power of God over 85 people gave their lives to Lord Jesus in this meeting. A man who came with stiff neck came forward and testified that he felt the warmth on his neck while the worship was going on and he got healed and was able to move his neck after over a decade. Another woman who suffered severe mouth ulcers explained to the gathering that during the laying of hands she felt like ice in her mouth and all the pain and soreness was gone.  Another senior testified that he felt very weak and needed support to walk but after laying hands he felt new energy in his body and was jumping and testifying. A great move of Holy Spirit was seen in this meeting and many others testified of healing from different sickness and diseases. Eleven demon possessed people were delivered in this meeting and here too many people received the gift of tongues.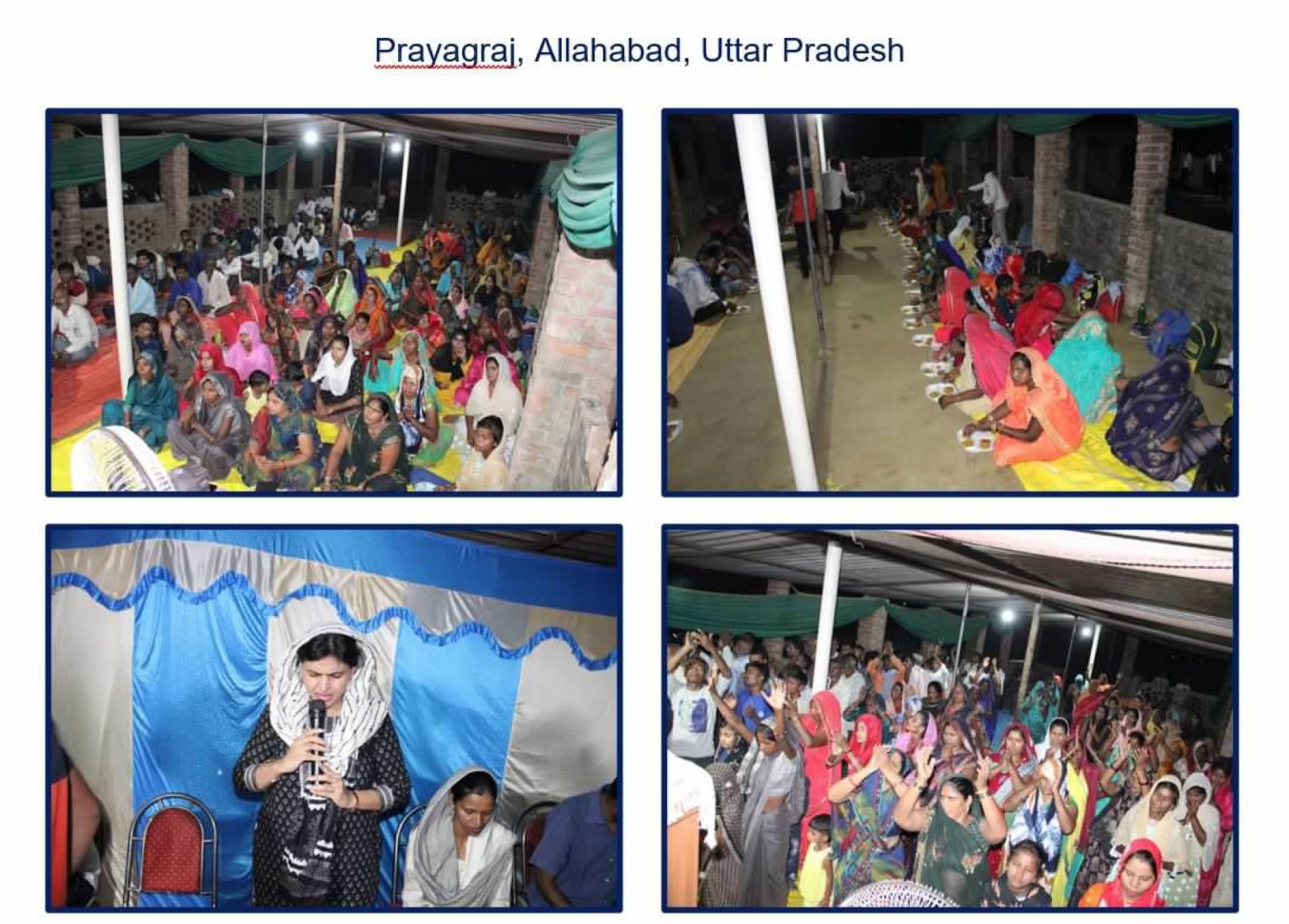 Following these two meetings 12 people were baptized in Allahabad. (Due to the sensitive nature of the gospel in predominantly Hindu India, the photos cannot be posted here.) We praise God for these precious souls. In May five new house churches started in Punjab & Chhattisgarh. Three new house churches in Faizilka and one house church in Ferozepur started in the state of Punjab. In Chhattisgarh too one new house church has started in May.
This month Bethel Church welcomed fourteen new believers in the church. All these people received the gospel through our house meetings and individual testimonies of our church members. Also, this month we had 38 house meetings to preach the gospel to friends and relatives of our church members. Bethel Church continues to have an online bible study every Saturday with Nishant David. We also continue to have our 3 days fasting prayer service on the 1st, 2nd, and the 3rd of every month. A weekly fasting prayer also happens every Friday at the church hall.
We thank God for His wonderful works. We also thank all our ministry partners and supporters for their prayers, support and love. May Lord Jesus continue to bless you all.