Praise report from Elijah Challenge workers in North India – July 2022
Last year this was a very difficult month for the Bethel Church congregation and the Christian Family Association partners and ministry workers as all of a sudden Pastor Simon Haqq went to be with the Lord on June 1, 2021. He was a man greatly loved and admired – a man of deep humility, compassion and service. His heart burned with compassion for people's souls and desire to bring them to the Lord's Kingdom. He would seize every opportunity to preach the Gospel of the Lord Jesus Christ and through his preaching millions of lives are added in Heaven. The Holy Spirit would touch every soul in his meetings and there would be undeniable flow of supernatural miracles that would cause even the most stubborn heart to accept Lord Jesus. Nobody would have thought that Pastor Simon Haqq would leave us all so soon but we know and trust that the Lord has better plans for all of us. The Lord strengthened and raised up other leaders who were trained under Pastor Simon Haqq to carry on the mission of winning souls for His Kingdom.
This month we had a major feeding event and gospel meeting in Delhi. Pastor Shakuntala hosted the meeting and Pastor Subodh Kaushal preached the message to a gathering of 300 people. Most of the attendees were Hindu and Muslim friends, relatives, colleagues and acquaintances of Bethel Church members. About 55 people accepted Jesus as their Lord and Saviour in this meeting. Many people received word of wisdom and four people were delivered from the evil spirits. A woman who was possessed by an evil spirit and became an alcoholic over 12 years ago was delivered and set free from alcoholism. She and her family started coming to Bethel Church from the next Sunday. We will be hosting baptism service for these new converts and support them in joining a local church in their areas.
Pastor Vikas Teji (Mona) organised a feeding event and gospel meeting in Amritsar, Punjab. The meeting was attended by over 200 people. 65 people gave their lives to Jesus as Pastor Shakuntala preached the gospel. Nine people were delivered from evil spirits and many testified of healing from different ailments.
A woman named Sunita testified that she was heading for a miscarriage as the doctor told her that there was no heartbeat in her baby. Pastor Shakuntala ministered to her and told her to wait for 15 days. She got the test done after 15 days and doctor confirmed presence of heartbeat and that the baby was growing normally.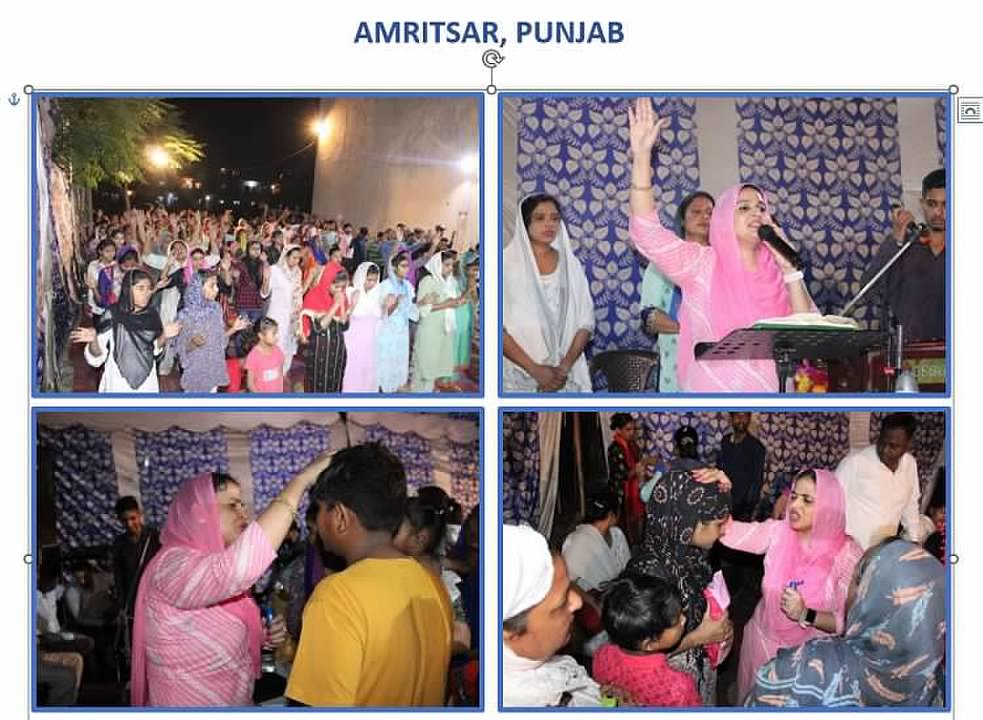 .
Bethel Church senior members – Shobha, Rakhi and Karunakar visited a couple of remote villages in Kakinada East, Godavari District, Andhra Pradesh. They did small group meetings and evangelism in the area for 10 days. More than 60 people were delivered from evil spirits over 10 days and many received healings from different diseases. Those who received Jesus Christ requested them to return to the villages and hold big open-air meetings.
In June Bethel Church had 23 house meetings to preach the gospel to friends and relatives of our church members. In these meetings 3 people were delivered from evil spirits. One of such persons stayed with Pastor Shakuntala for three days until she was completely delivered.
We continue to have our weekly bible study online every Saturday with Nishant David. We also have 3 days fasting prayer service on the 1st, 2nd, and the 3rd of every month. A weekly fasting prayer also happens every Friday at the church hall.
We thank God for His marvelous works. We also thank all our ministry partners and supporters for their prayers, support and love. May Lord Jesus continue to bless you all.