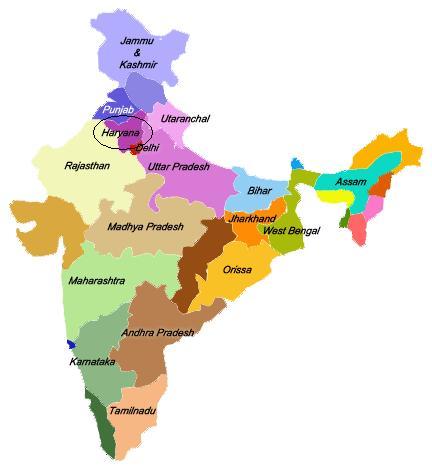 The village of Dabuwa is in the state of Haryana
Director Joshua Gowda of The Elijah Challenge Training Center India wrote:

"Our July Feeding Event was held in Dabuwa Village, Hariyana. Due to heavy rain we postponed it two times. We had planned to conduct the Feeding Event in an open-air tent because many were expected to come. One of our Elijah Challenge Coordinators, Pastor Anil Masih, lives near this village. After he attended the Advanced Elijah Challenge Training last month, he trained his co-workers. Then along with them he began healing the sick in Dabuwa village; the Lord used them in this village. On July 23 we rented a big hall for the Feeding Event because of the heavy rain outside. This indoor evening meeting was very successful even though for some time there was no electric power. However, the power of God was there to touch the heart of 382 Hindus. Close to 329 people gave their lives to the Lord Jesus Christ. Pastor Anil and his co-workers started a new Elijah Challenge Church. Sunday, July 27 was the very first time in the whole village that people came to worship the Lord Jesus, and 234 people attended the worship service in Dabuwa Village. We praise the Lord for the great harvest in this village."
Above & below: grounds for the open-air tent meeting were underwater due to heavy rain; the Event was moved to an indoor hall
Above: Hindus fill the hall for the Feeding Event
Above: First, Pastor Simon Haqq shares the gospel
Above & below: Hindus listen to the preaching of the gospel
Above & below: Hindus giving their lives to Jesus Christ
Above & below: Elijah Challenge-trained leaders heal the infirm as Jesus commanded his disciples in Luke 10:9
Mrs. Laxmi Devi could not even turn her head because of neck pain. Elijah Challenge-trained Pastor Rameshwer laid hands on her and she was totally healed. At right she is testifying from the front how the Lord healed her.
Above & below: serving the meal to the villagers
Above & below: Dabuwa villagers enjoying the meal