One pastor made a confession and others agreed with him when he said – "We pastors were sleeping all this while. Now we have woken up."
.
Below are excerpts from her report
Day 1  (First venue: Mechinagar Church): The night before we started the training, it started raining. It rained continuously through the night, till morning. It is not the monsoon season yet. I woke up multiple times during the night hearing the sound of rain. I was at times praying in my sleep knowing that our Lord is in charge, and would again fall asleep. I was reminded of how Pastor William had rebuked the storm in Manipur in Lord Jesus' Name over 20 years ago. At the same time, I also remembered his teaching that we are not to exercise authority in such situations unless it is for proclaiming the Kingdom of God to people who are not believers or unless it is something which is threatening. 
God's Grace! The rains stopped completely just before we started. Praise the Lord!!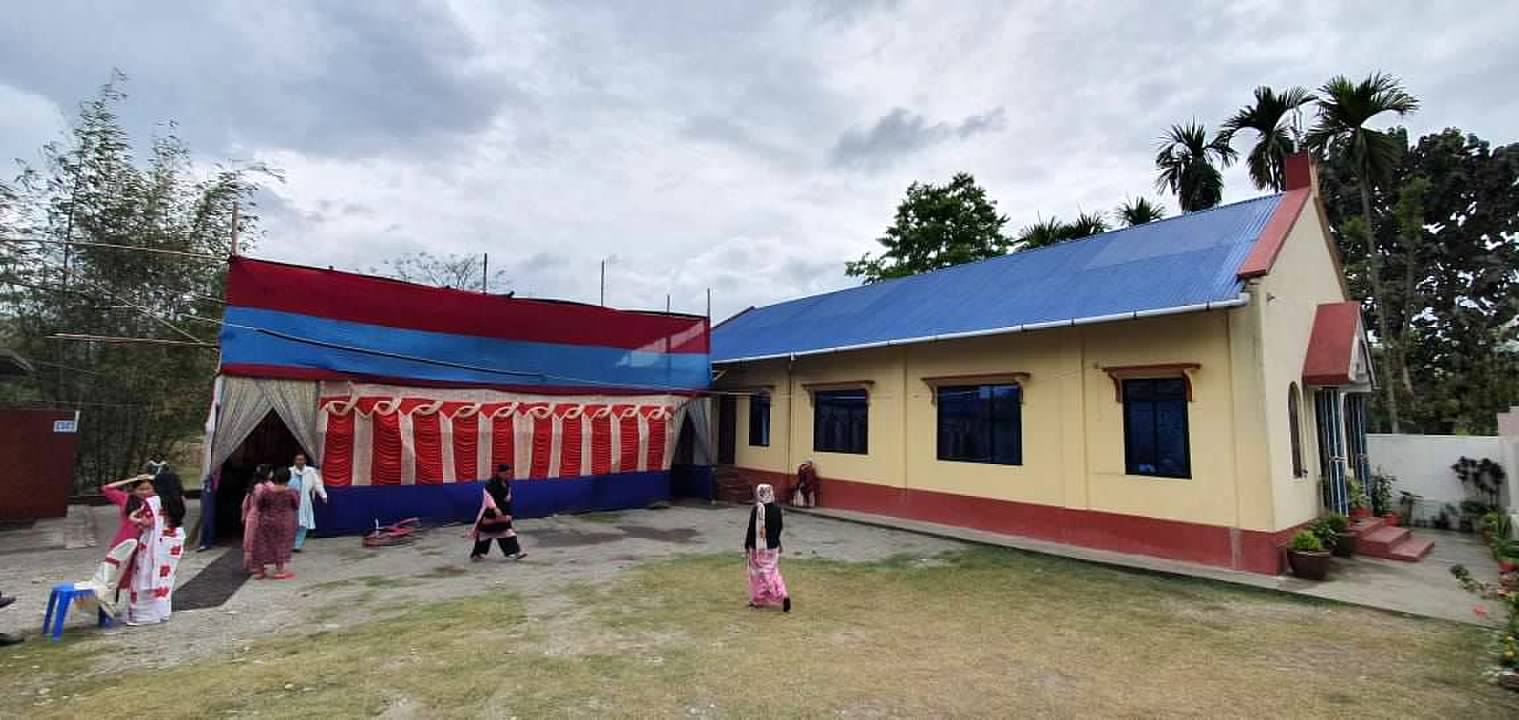 Before I arrived here, the pastor had told me that he was expecting around 80 people to attend. There were 85 registrations. And this is in spite of the rainy and cloudy weather. Praise the Lord!!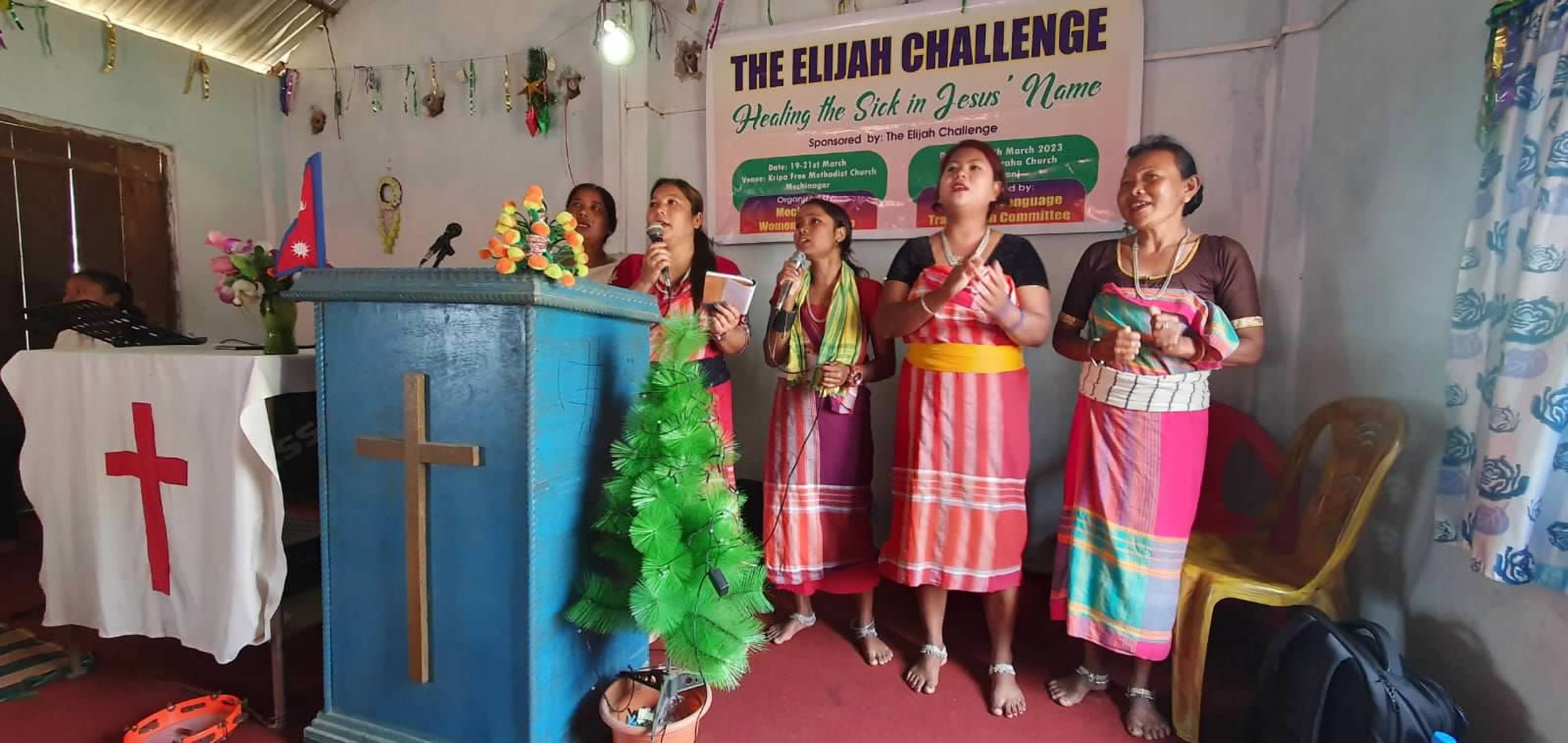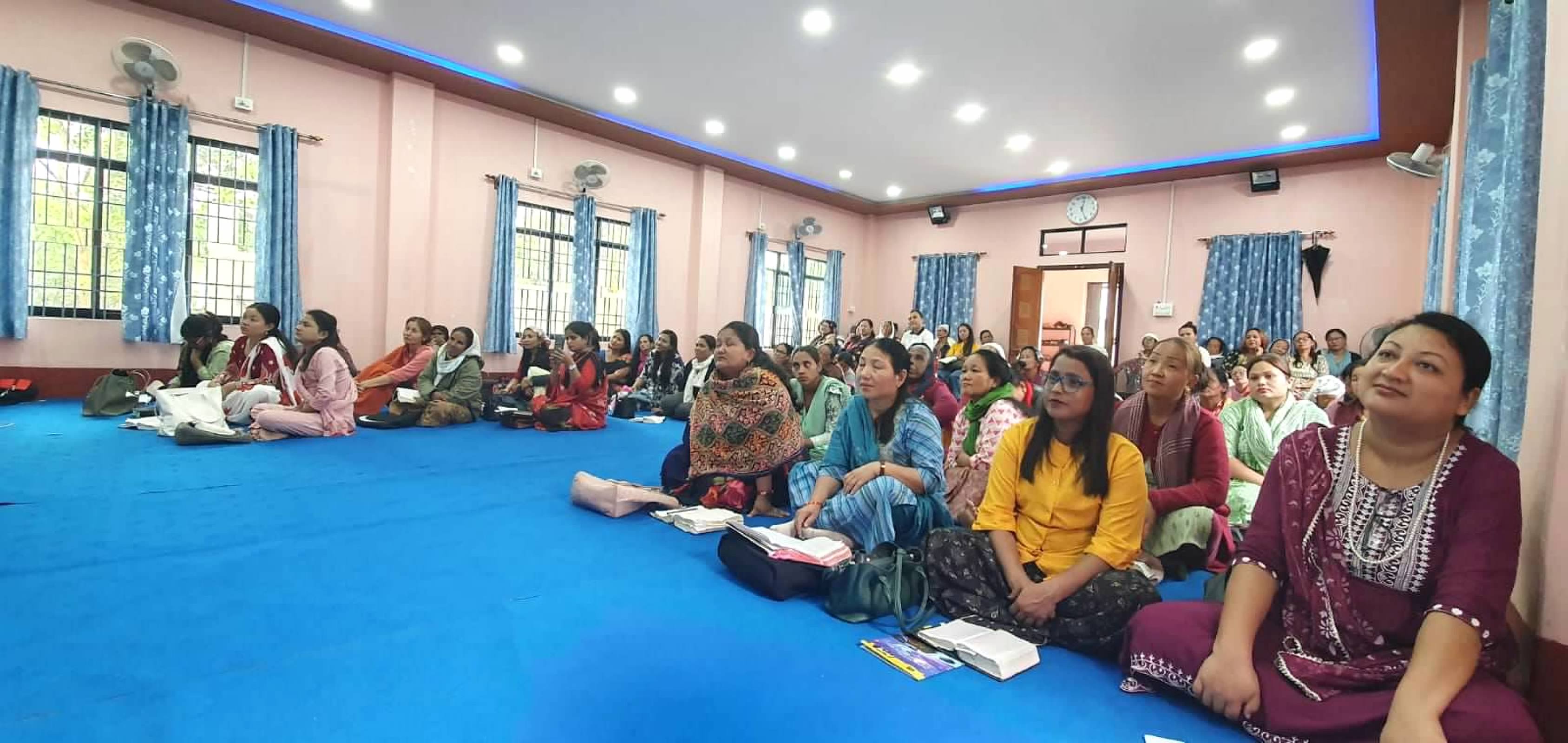 As part of demonstration of the teaching, I asked someone who was in pain to come to the front. And I asked for one volunteer who would command healing using authority. Not one, not two, but three came up. I was so happy to see their eagerness, enthusiasm and hunger to learn and implement what they are learning.
We saw our Lord's healing touch upon quite a few people – mostly healing from pain. One lady testified that she was experiencing healing during the teaching. The Holy Spirit was ministering to her, one on one.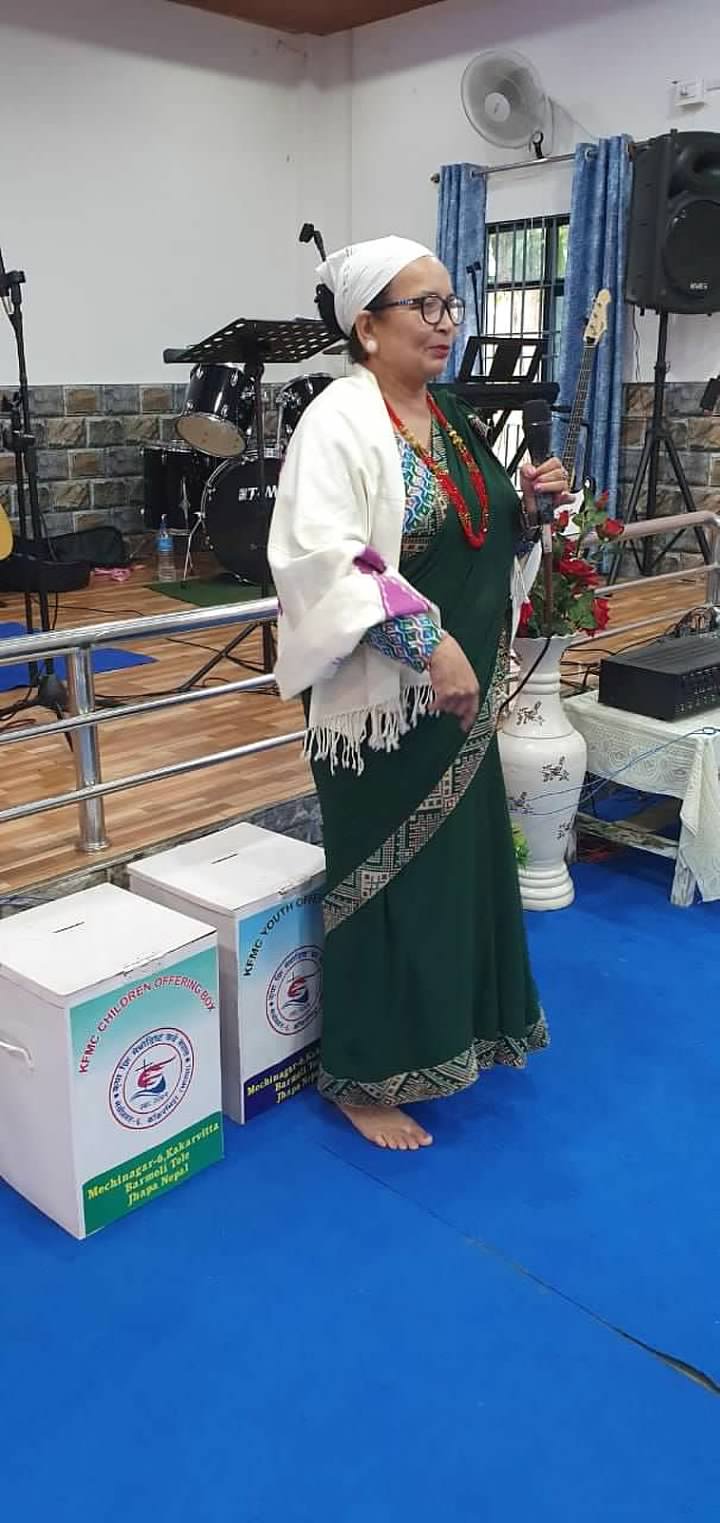 As there are constraints to go out (even in small groups) and practice what they were learning, their homework at the end of the first day of training was to heal the sick one-on-one once they went back home.
Day 2  (First venue: Mechinagar Church): We started the day hearing testimonies of participants – they had gone home last night with homework (to minister healing to people in the Name of Lord Jesus Christ). Some ladies came up to the front and shared praise reports and testimonies. Praise the Lord!! Many shared healing from aches and pain. One lady had high bp and dizziness, and the Lord had healed her.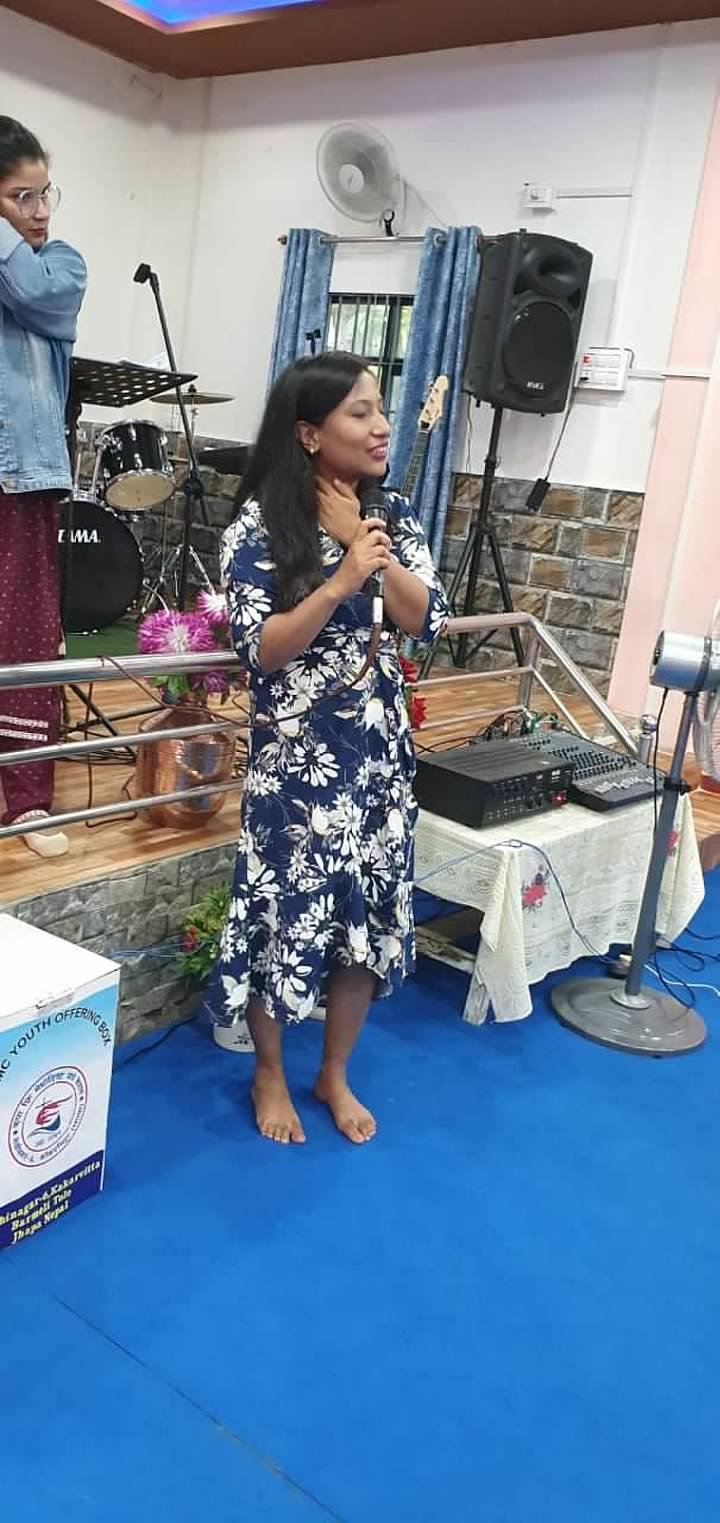 As it is not advisable to go outside and evangelize, I decided to get them in groups and practice what they are learning. Each group had five/six members. As these women started commanding healing with authority and power in the Name of Jesus, the place felt very different. The pastor later shared with me that he could sense that these ladies sounded full of authority – they really have got an understanding of what authority means. They practiced for a few minutes and then it was time to share praise reports. Many of them came forward to share how they got healed during this time.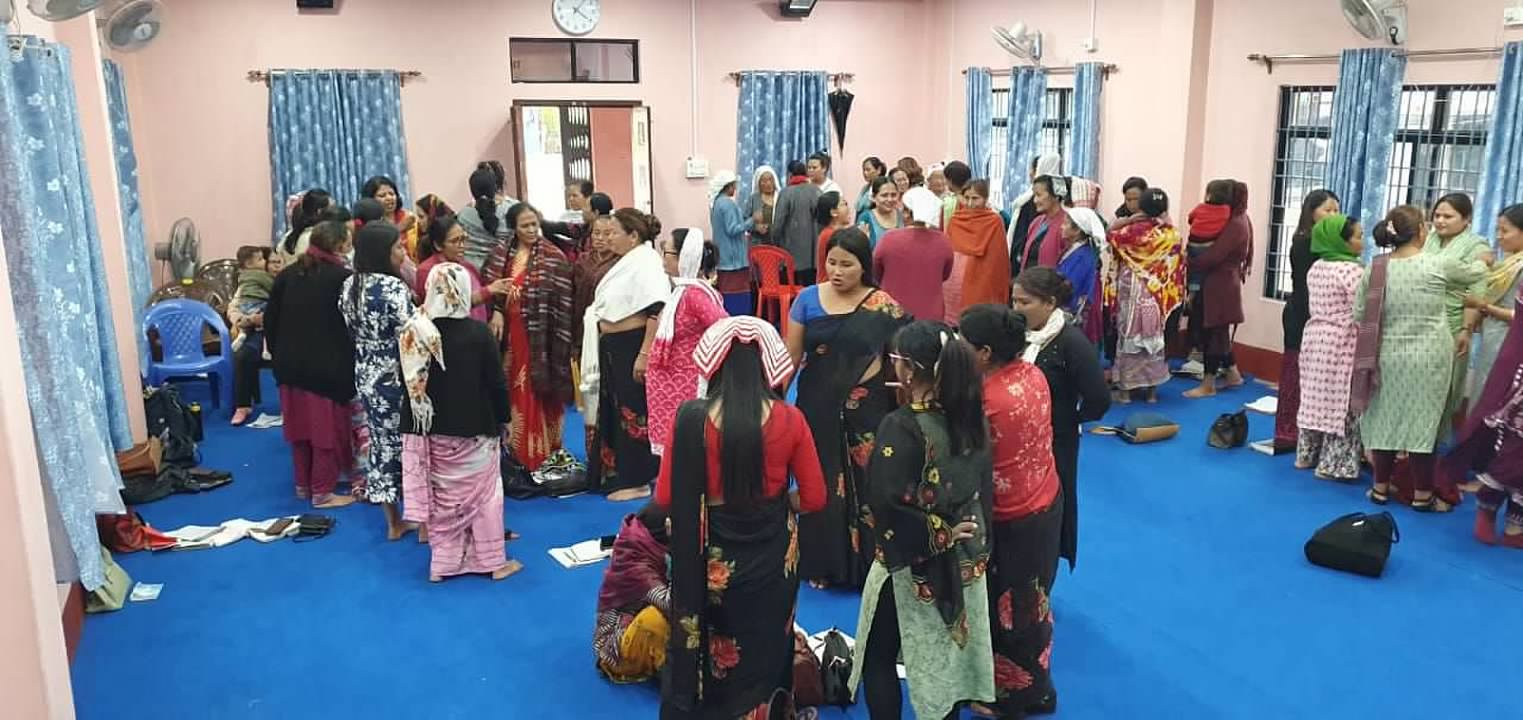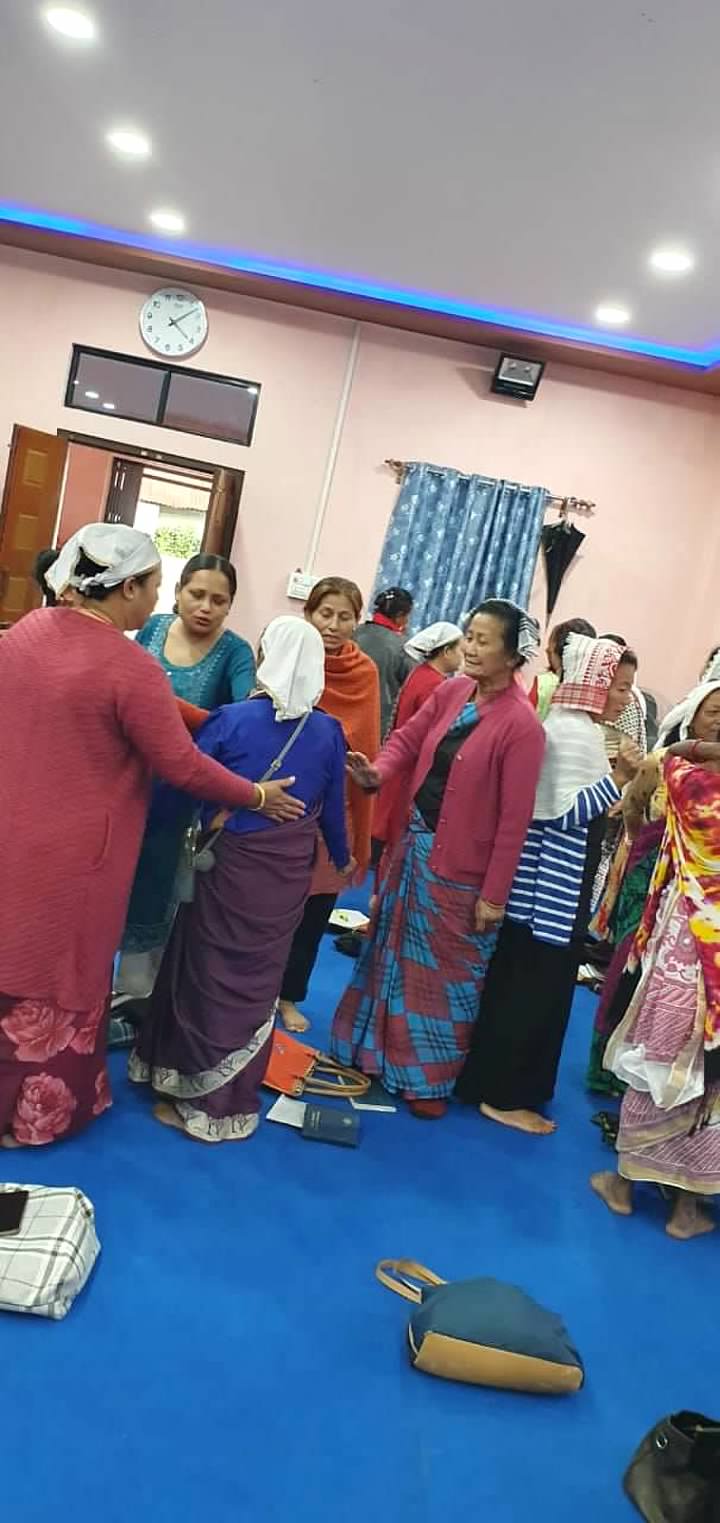 This group has many elderly women attending. Some of them might be in their late 70s or early 80s. The way they dance and worship the Lord and the way they use authority to command sickness to leave in the Name of Jesus is pleasantly surprising. I pray that revival will come in many places through these elderly women who are so young in their hearts and actions.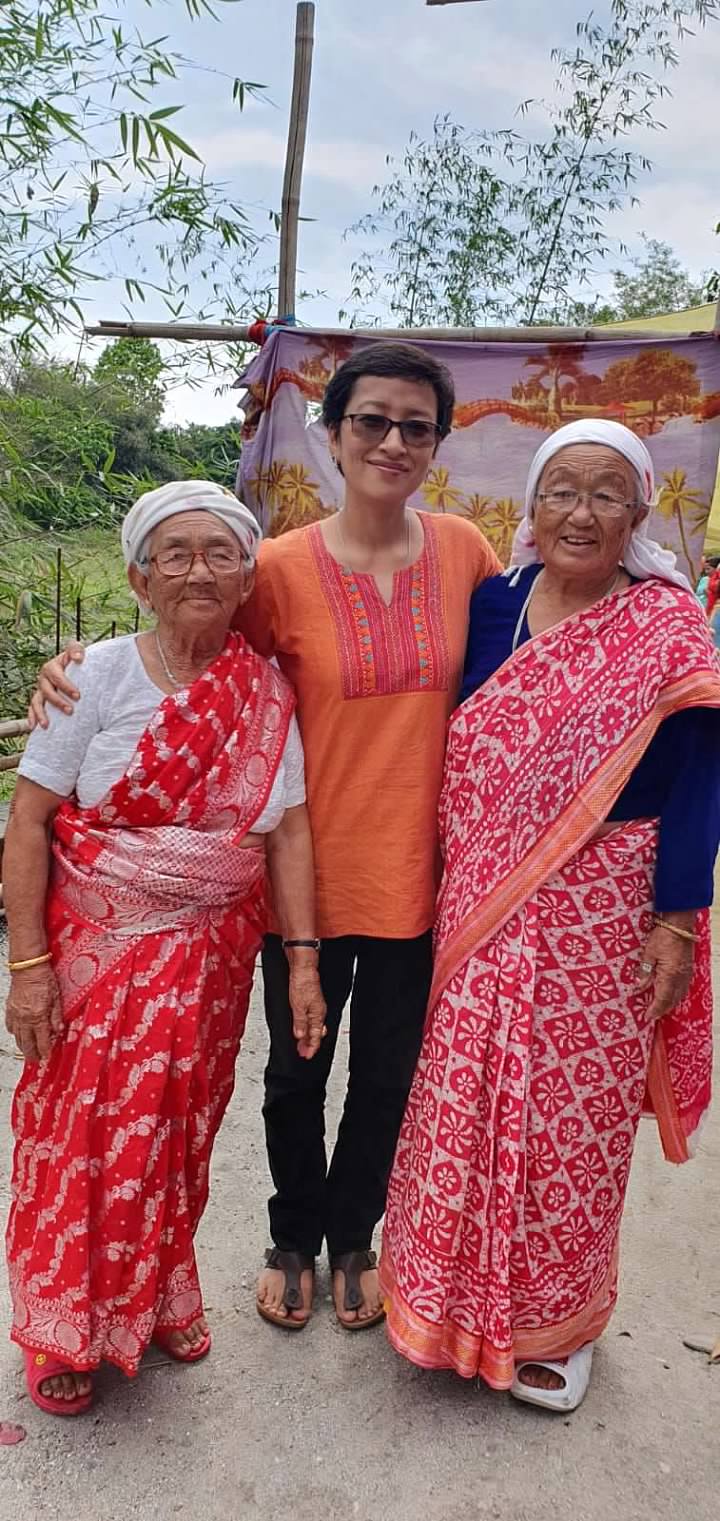 There was a lady who came here today seeking to be healed. All the while she sat with her face covered with a scarf, from her nose downwards. Someone mentioned that she was suffering from cancer. During one of the breaks, I got a glimpse of her face, in the wash room. Her chin was protruding with lots of blisters. I immediately knew that it was not 'by chance' that I noticed her condition. It was the Lord's plan for me to get that glimpse so that when she would come up in the front later, I should not be taken by surprise and should not feel or display any kind of unpleasant surprise. Our Lord is so Loving! He prepares us for what He calls us to do!
So when she walked up to the front and removed the scarf from her face, many people in the gathering were a little shocked to see her condition. The Lord had already prepared me. I kept my focus on the Lord. The participants were watching me.
This lady (her name is Sabitri), is suffering from cancer (4th stage, as per the doctors). It started in her teeth, now got blisters and open wounds in her chin which had pus and a bad smell. Flies were sitting on her. I asked the whole gathering to get up and start rebuking the cancer and sickness to leave her in Lord Jesus' Name. And to command healing in Lord Jesus' Name. Now, this requires mountain moving faith. We continued a few times. Sabitri said she could feel some sensation in her chin and some kind of pull in the blisters as we were rebuking and commanding in Jesus' Name. We ministered some more.
Day 2's homework is to heal one or two people who are not well and who are not believers. And proclaim the Kingdom of God and the Name of Lord Jesus Christ!
Day 3  (First venue: Mechinagar Church): Final day of the training in this place. It was for half day, till lunch time. Participants shared testimonies of healing. Someone's eye sight got better, one participant had ministered to someone who had paralysis and this person's mobility got better. Others shared praise reports of healing when the participants practiced in groups.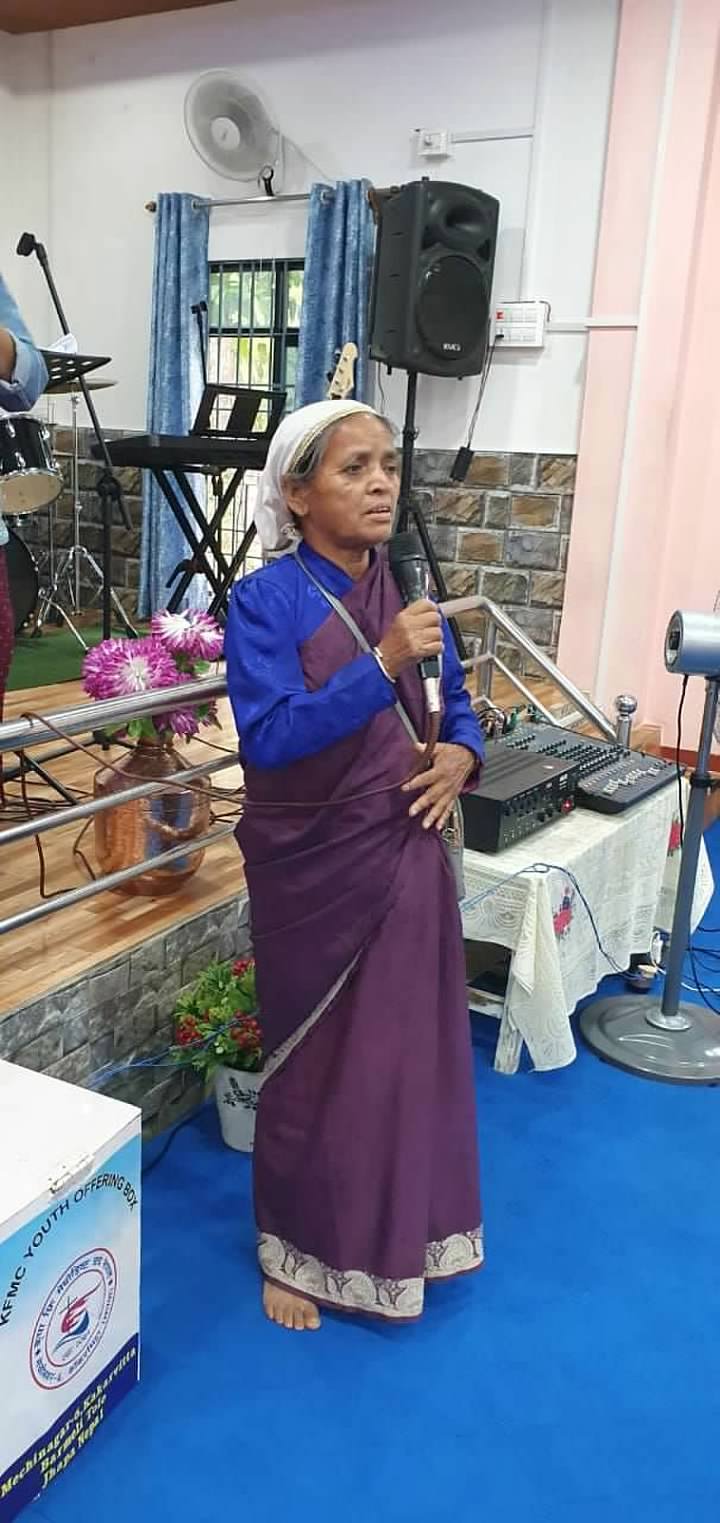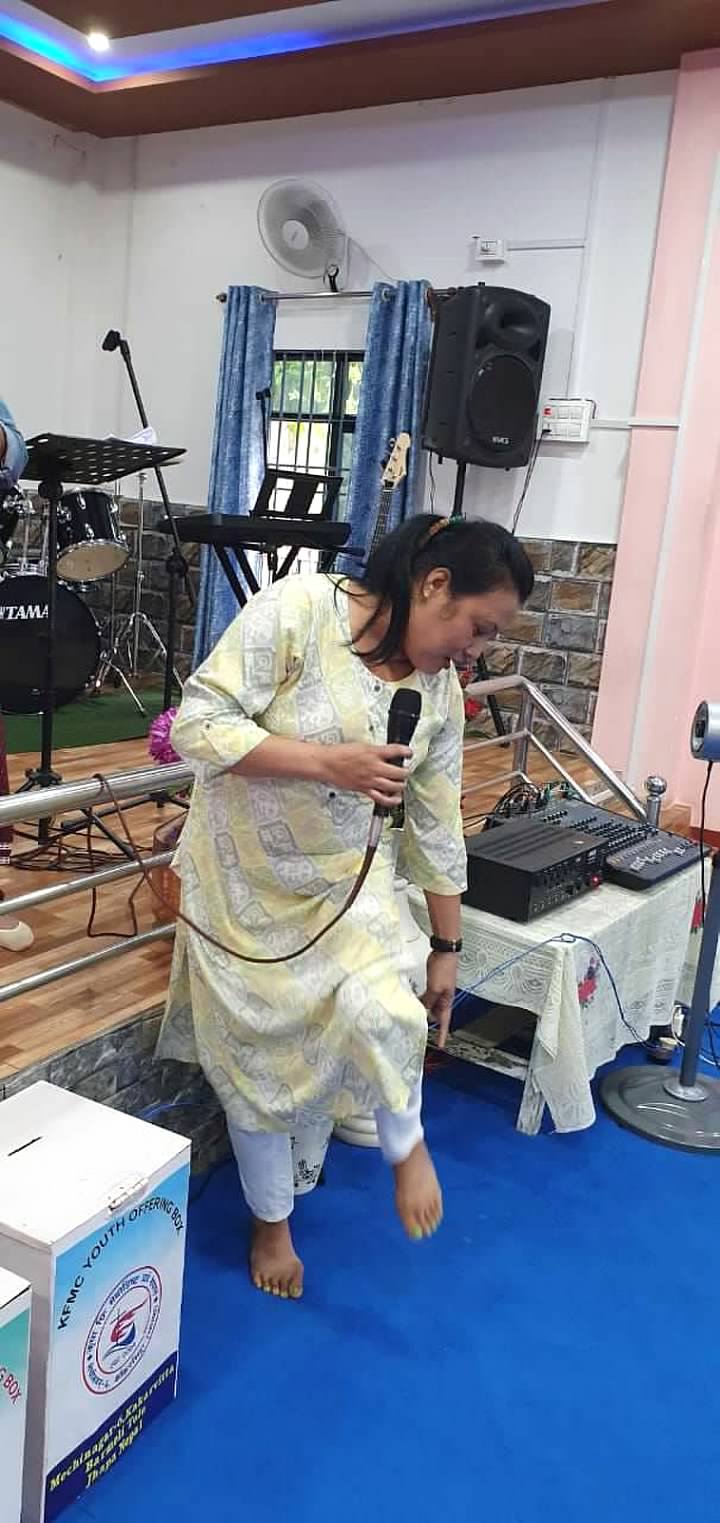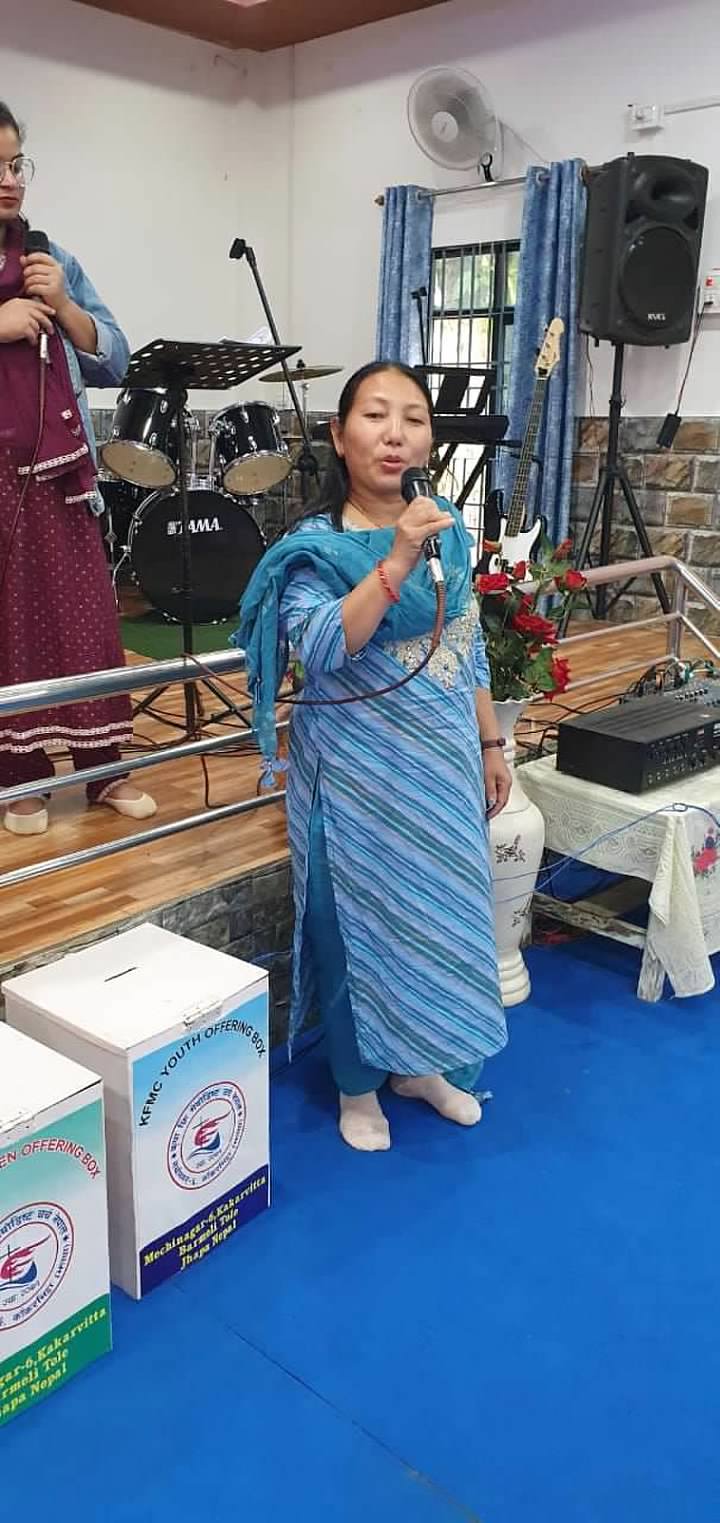 Some participants invited people who were sick to come. We ministered to them. One girl with steel rods in her arm (due to some accident) got healed from pain. One Hindu lady experienced relief from pain. She sat for a little while and then left.
Praise the Lord!!
The sun was shining and the weather was pleasant!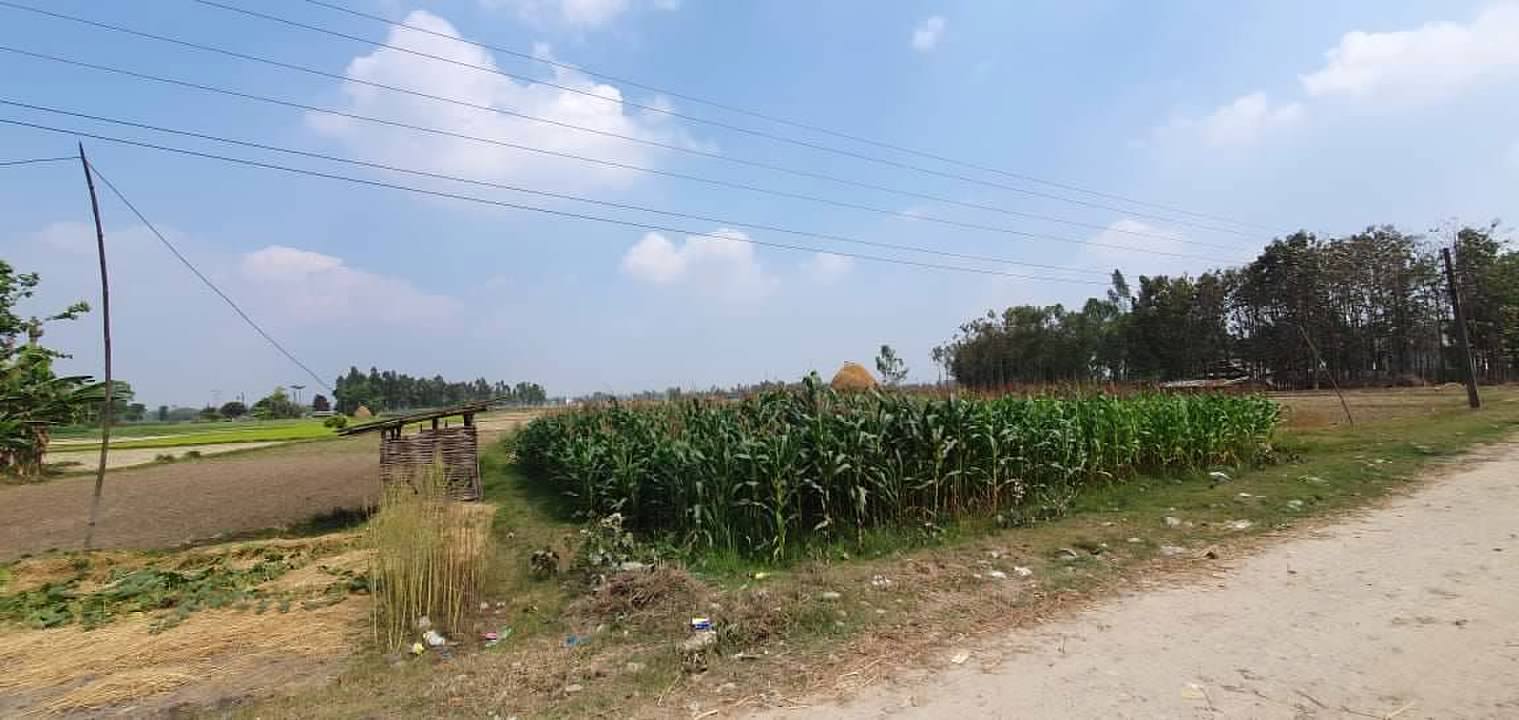 Day 1 (Second Venue: Gauriganj Church) – This is a small church in a village. We have to drive around 1.5 hrs to reach this place from the place of stay, around 3hrs travel to and fro everyday. Roads are good. The pastor of this church and pastor of another neighboring church had attended our Elijah Challenge Training in October 2022 when I was here. I recall my sessions back then. During the sessions, these two pastors would be so busy taking down notes. They would catch me during break time and ask many questions. They were so hungry to learn more. Since then they had been requesting for The Elijah Challenge training for their believers' community. And today, their prayers and their dream have come true.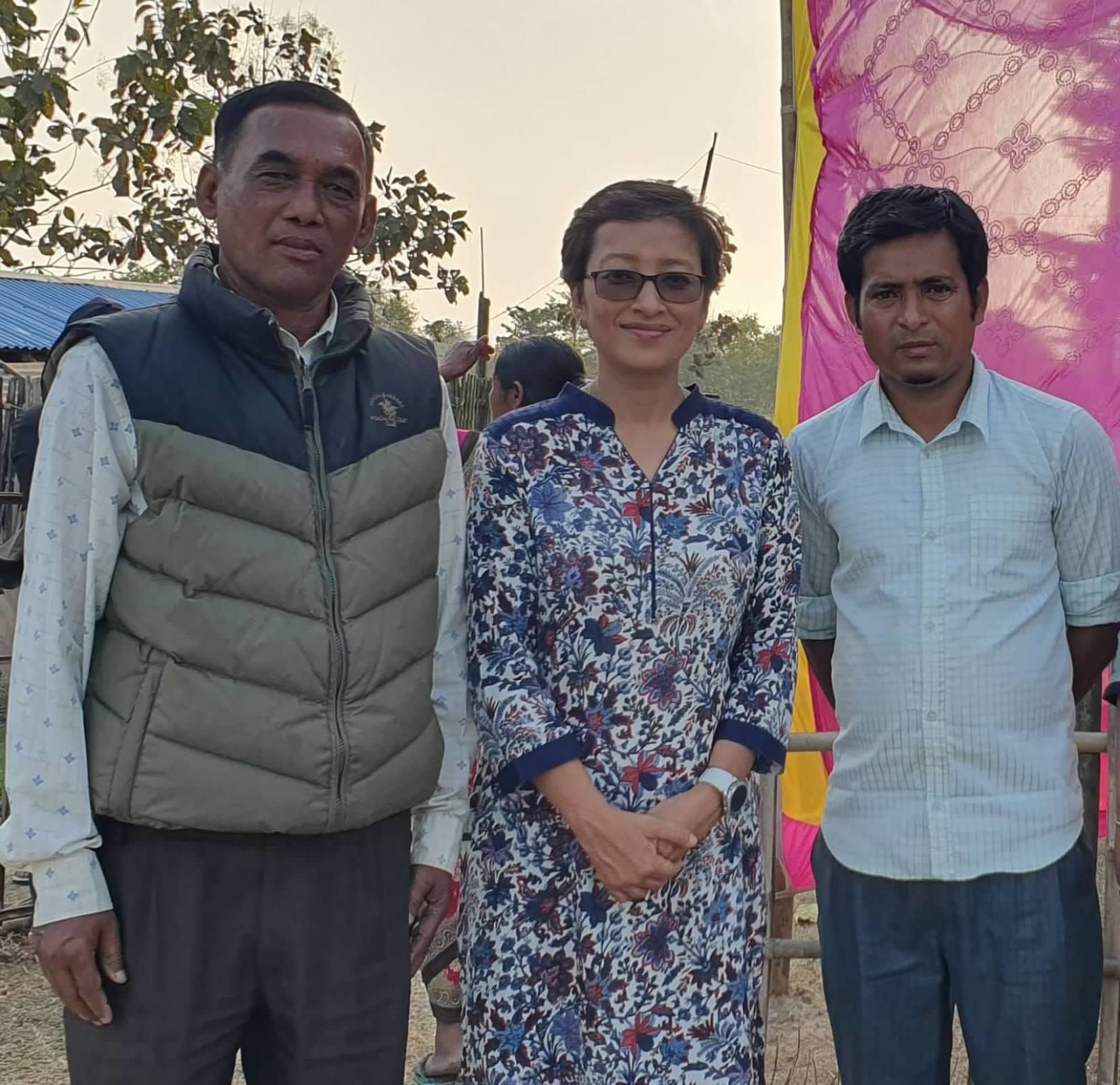 When we started the training, we did not have many people. By late afternoon many more arrived. They had travelled from other remote places. The pastors and organizing team had made arrangements for these outstation people to stay in the church at night and in some believers' houses.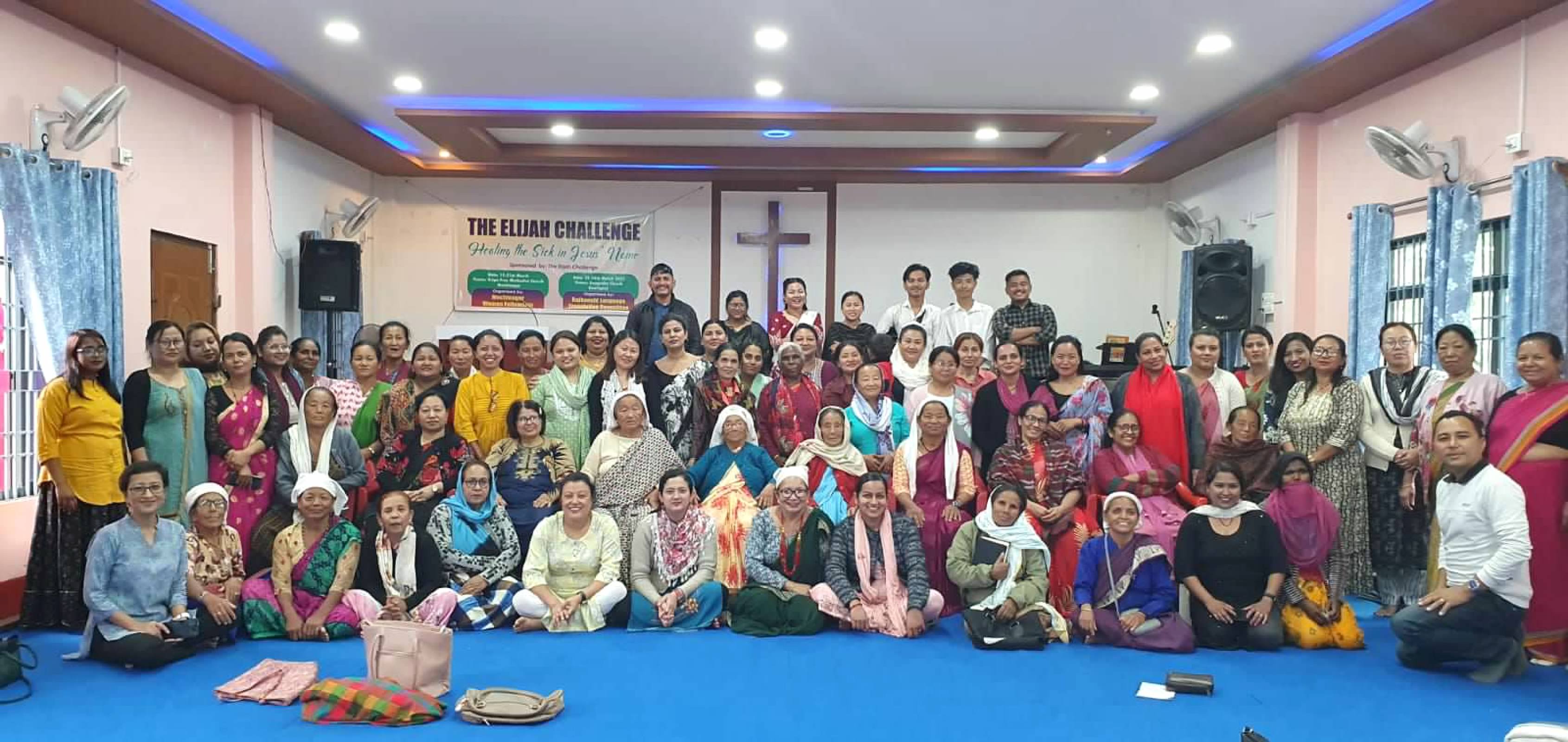 After the sessions, we had few demonstrations and then the attendees practiced how to use authority and power in the Name of Jesus. Many experienced healing from pain, tumour, headache, etc.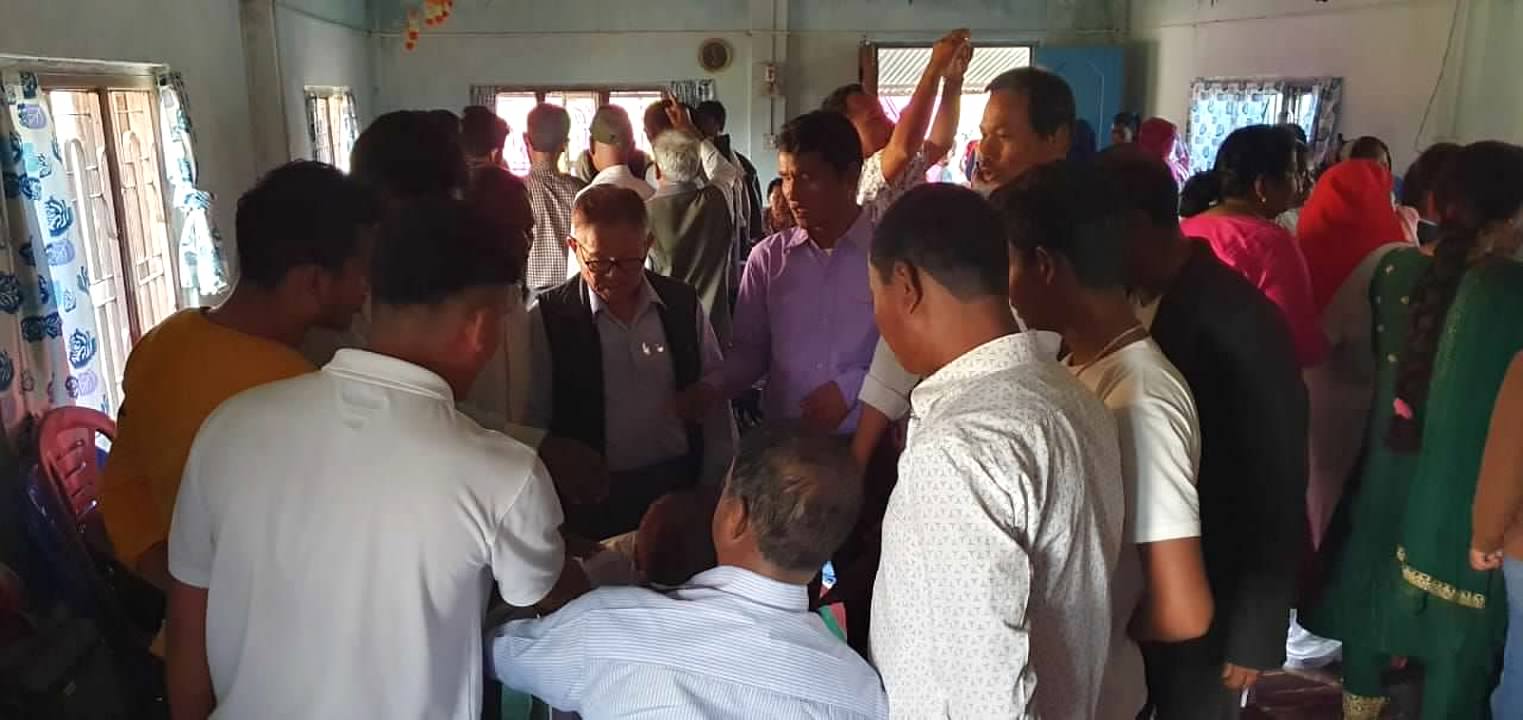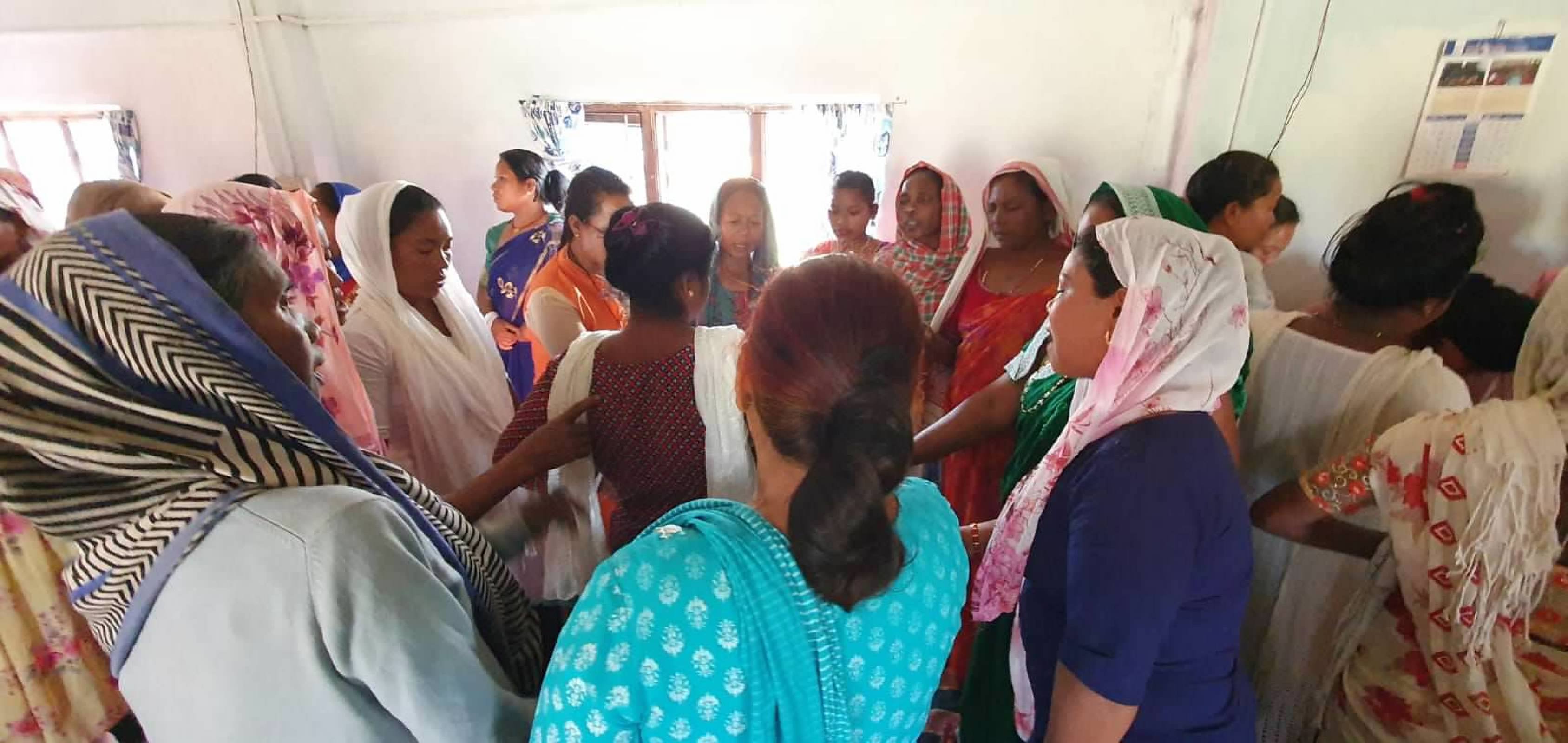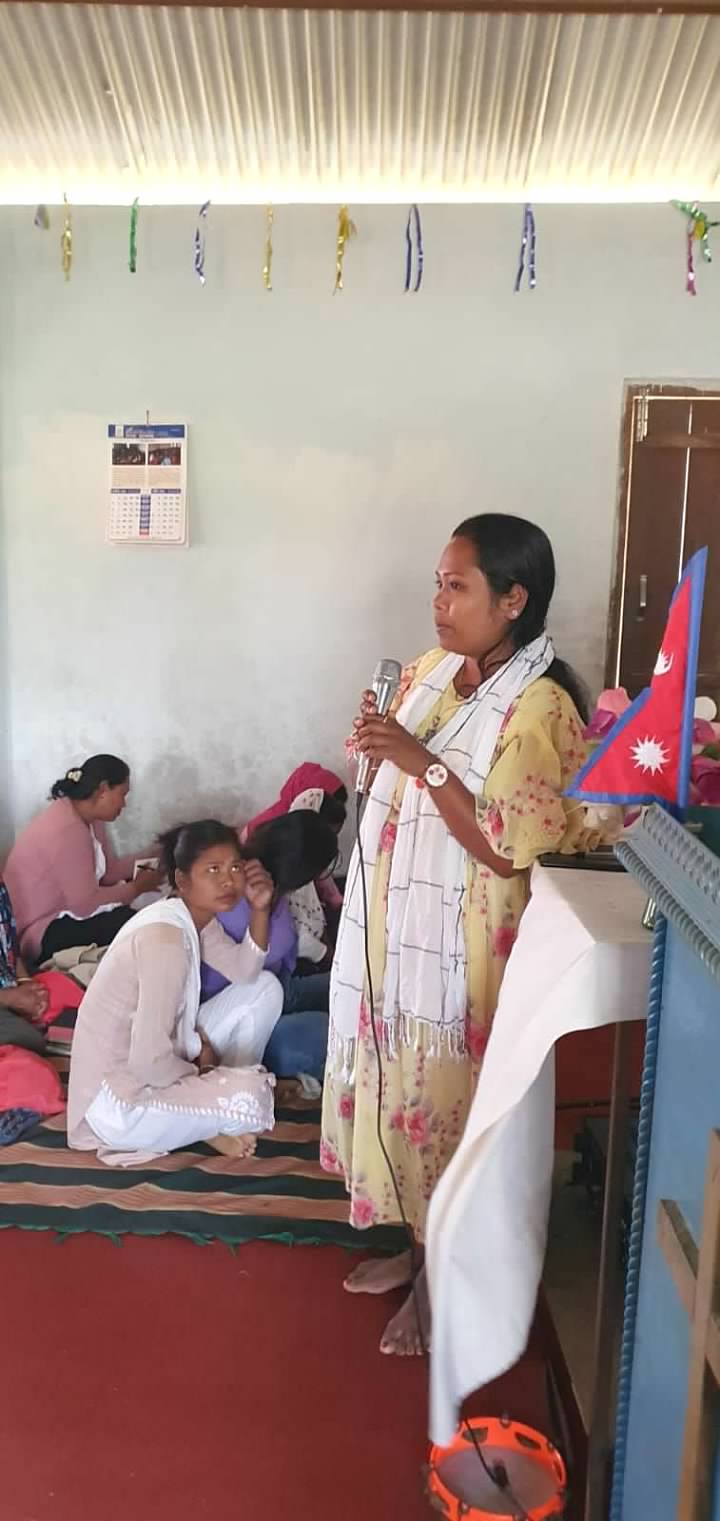 Later, one lady approached me and asked for ministering. Her daughter told her she will command healing when they reach home because she has learned from the sessions. So I need not do anything. I was so happy to see how the attendees are learning so fast.
The weather is pleasant and sunny. No rains. Our Loving Lord!!
(Again) The two pastors below who attended The Elijah Challenge in October 2022. Now they are organizing in their church.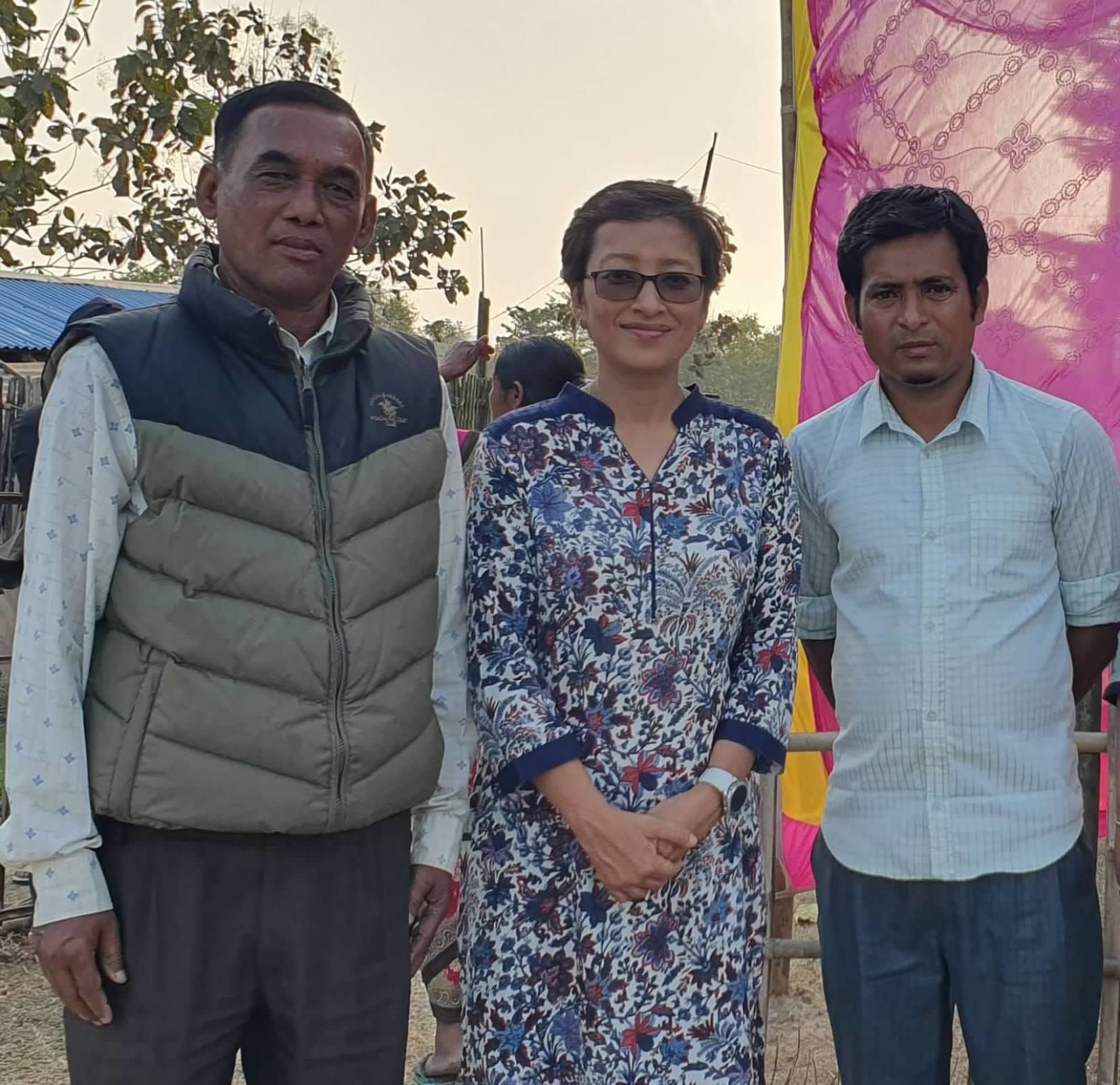 Day 2 (Gauriganj Church) – The small church was full today. In addition to the local believers, around 20 people had come from relatively far off places. They would stay in the church premises and some believers' houses in the neighborhood. All arrangements for cooking food are done in the church compound. The church was full and there was no place to sit. They had to put more mats on the floor for people to sit. Some were sitting outside, near the door and the window to listen and learn. It brings deep joy and a sense of fulfillment seeing what the Lord is doing among His people and what He will do through His people in the days to come.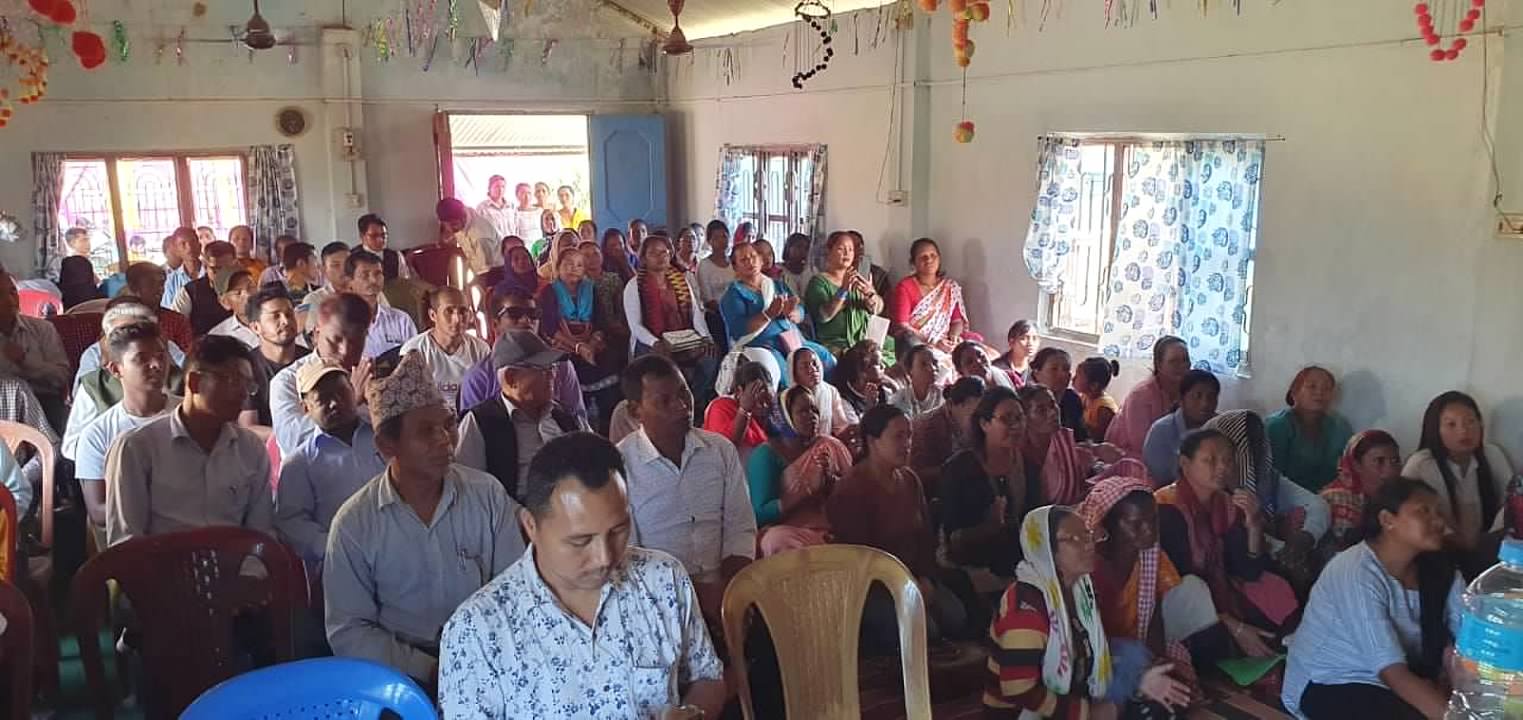 We started with testimonies from yesterday's practice sessions and homework. The Lord has healed so many – headache, migraine, other kinds of pain, the lady who had tumor was feeling well. We thanked and praised the Lord.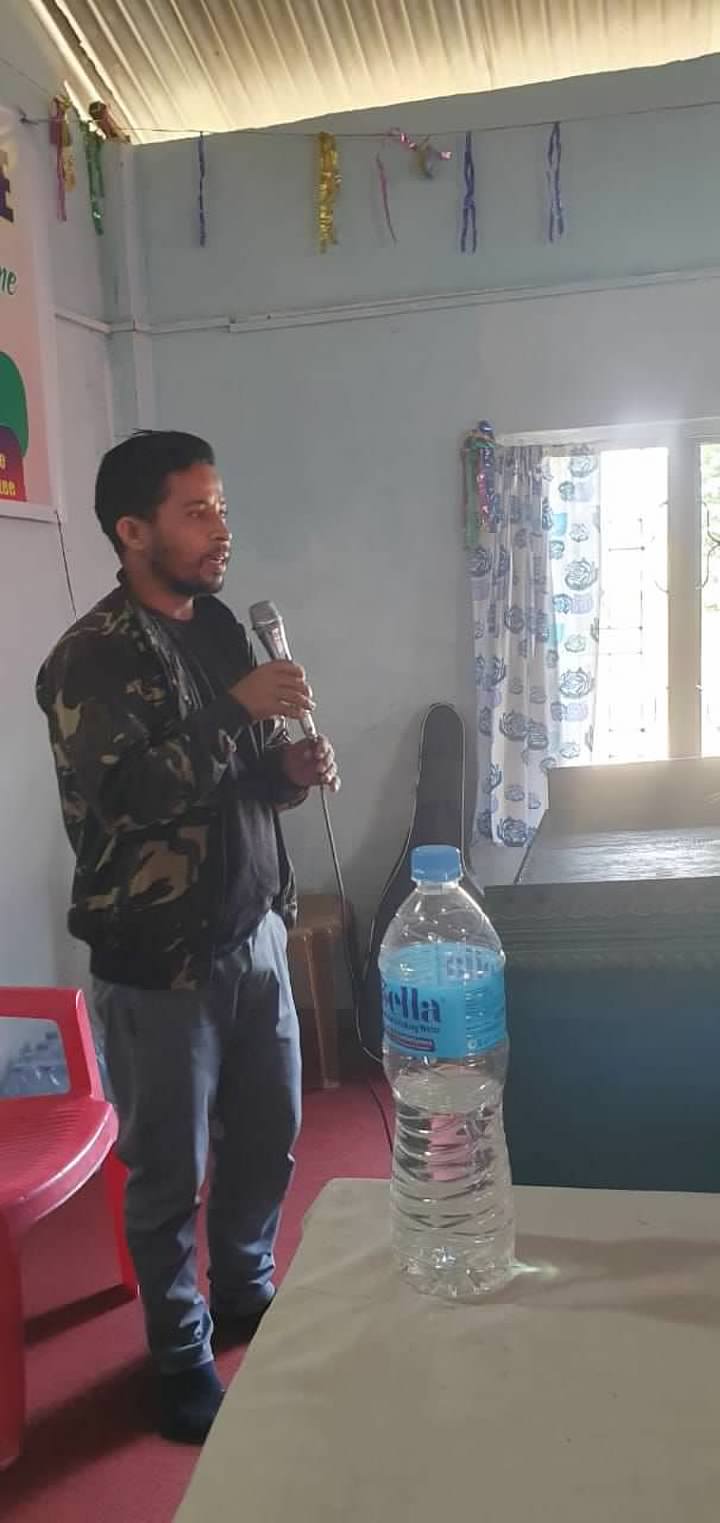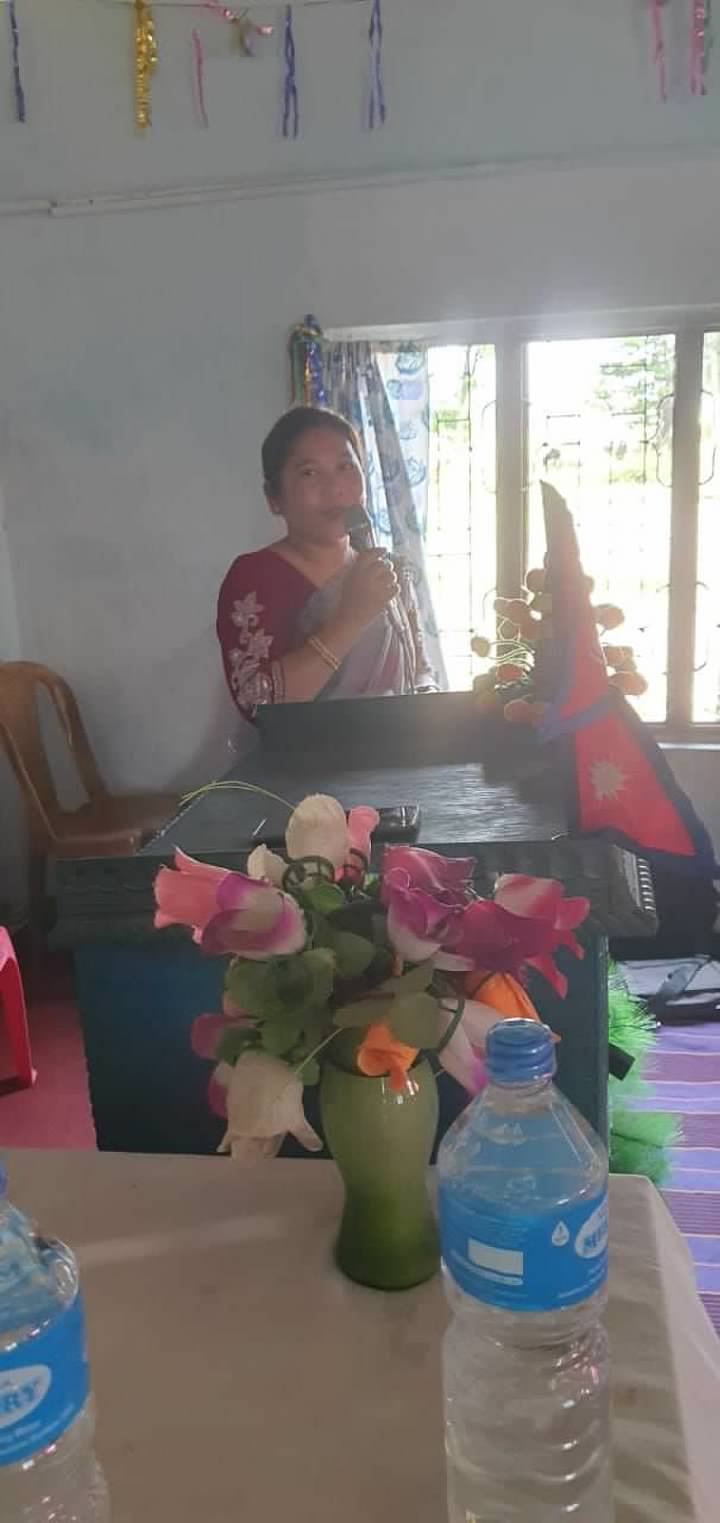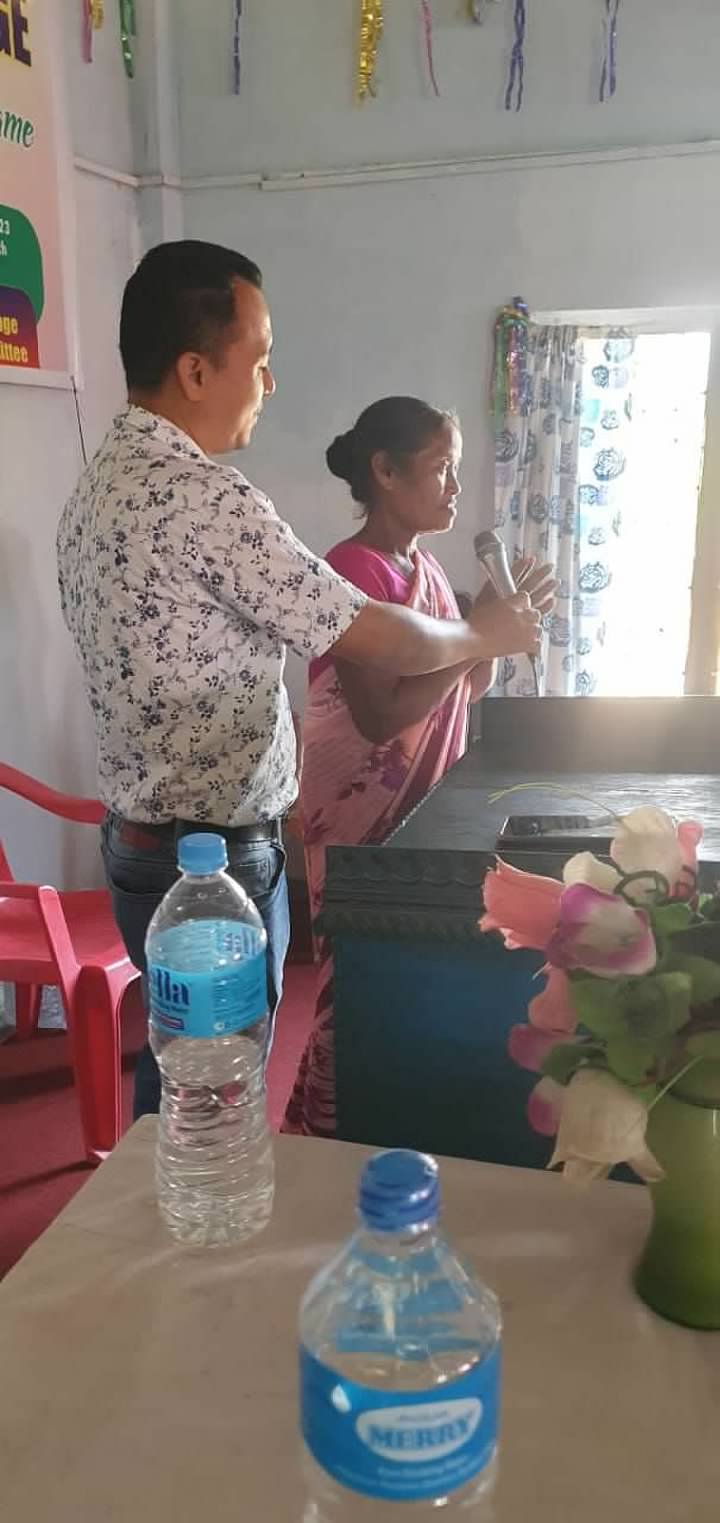 After lunch, we decided to click a group photo outside in the field. When people gathered out in the open for the photo, we were amazed. How could so many people fit inside the small church!! No wonder that there was shortage of rice during lunch time 😊. They had to cook rice again. There were more people than the organizers had anticipated. Praise the Lord!!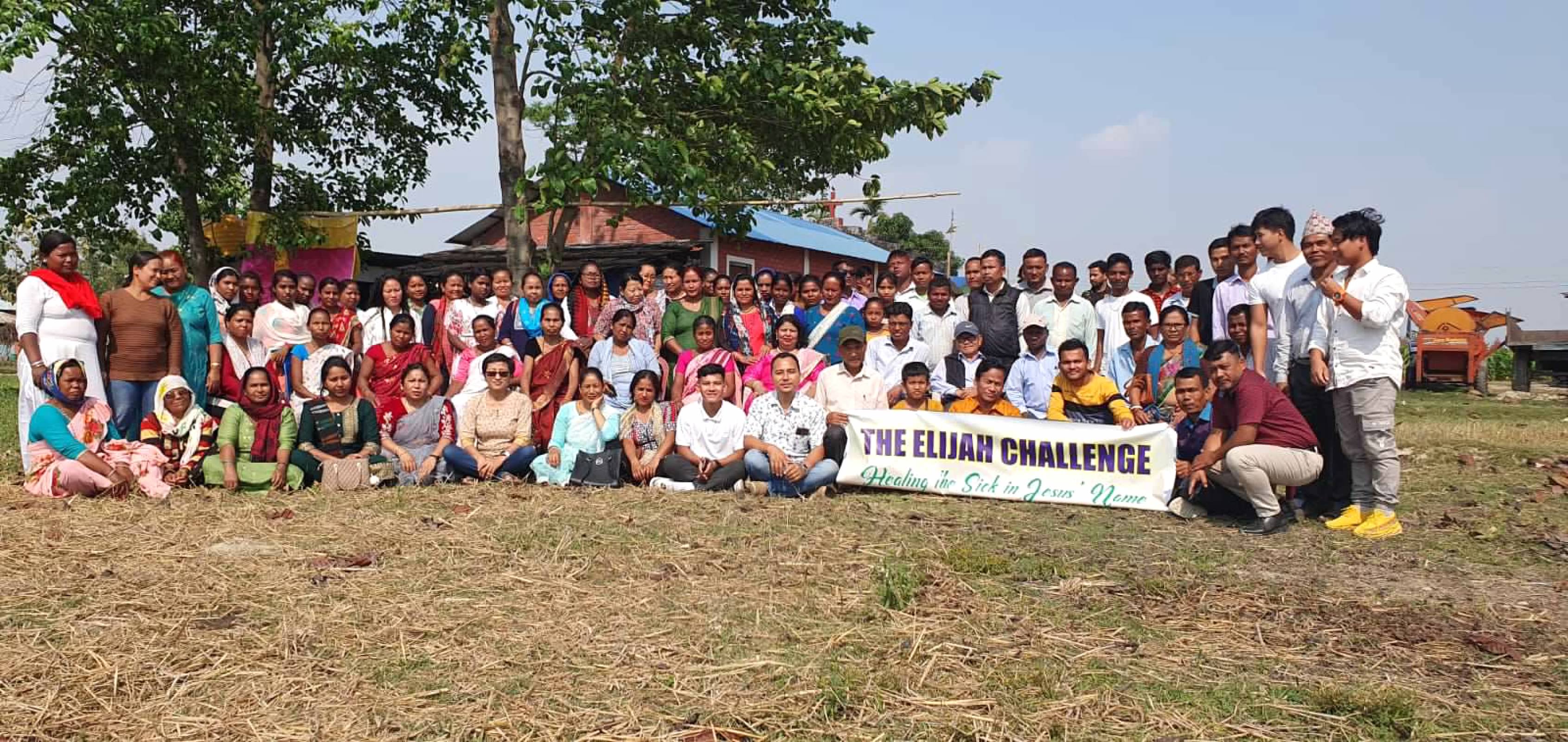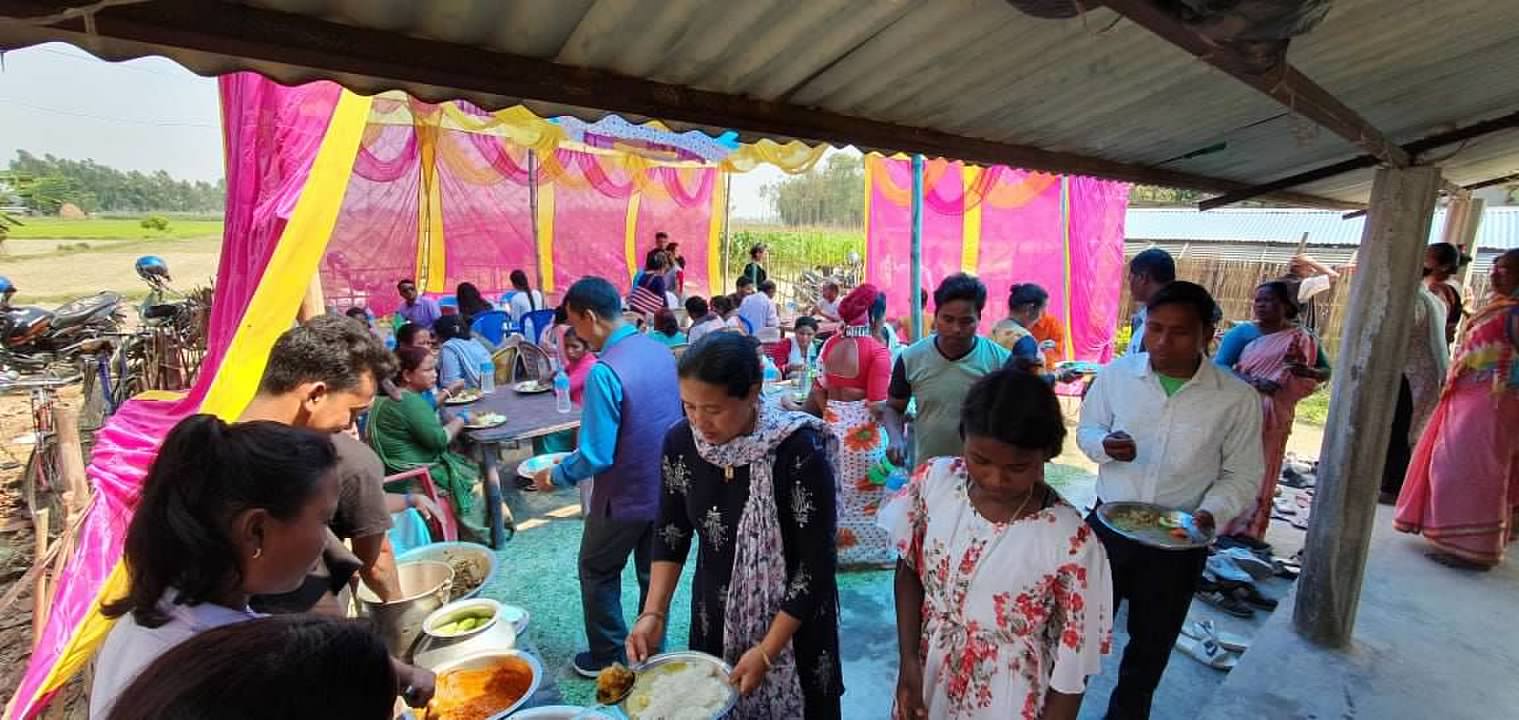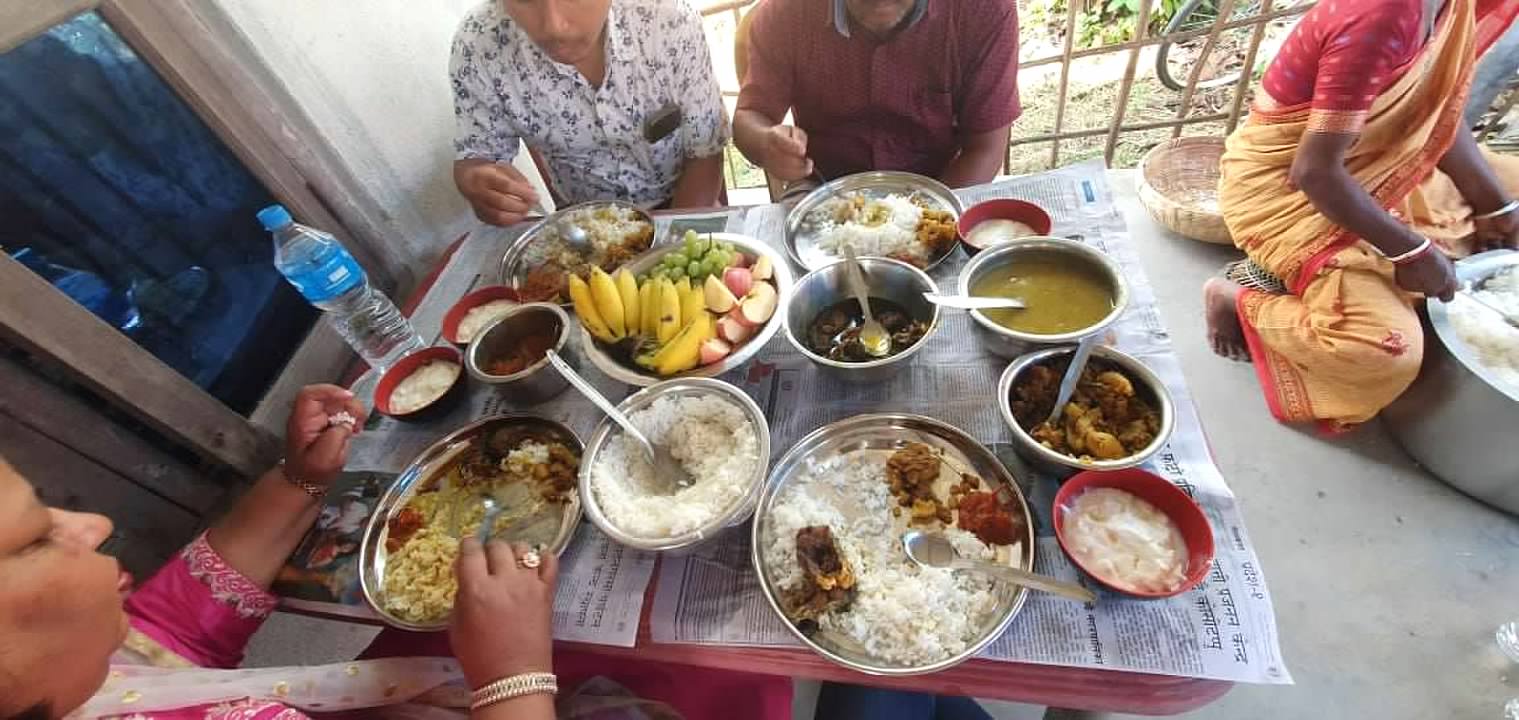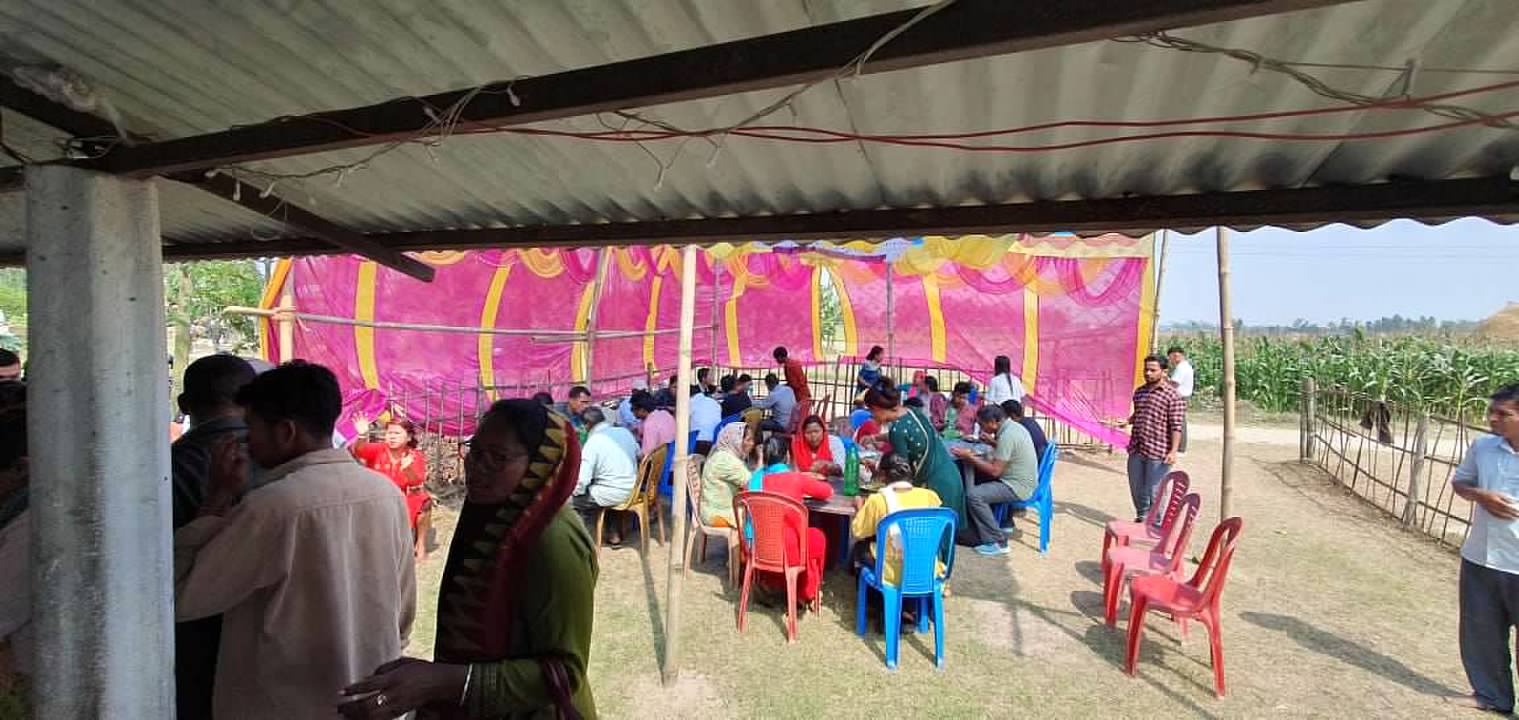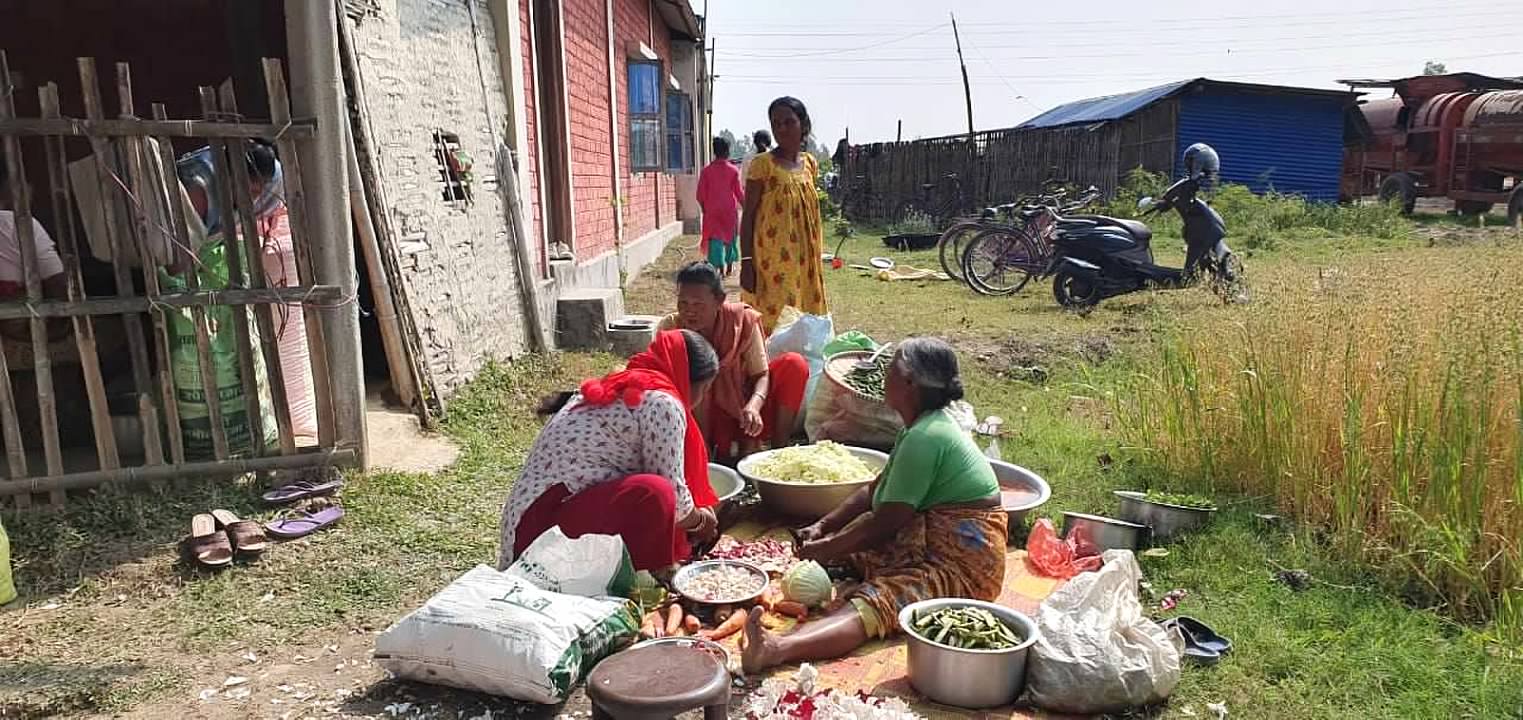 During practice sessions, groups were formed of around 10 people per group. There was a man who had some problem in one eye. He underwent surgery but did not recover. He had also done laser surgery on another eye. He ended up losing vision in both eyes completely. We commanded and ministered in the Name of Lord Jesus. First two rounds, no visible change. Third round, he felt some sensation. After a few more rounds, his vision was coming and going. He could see flickers of light.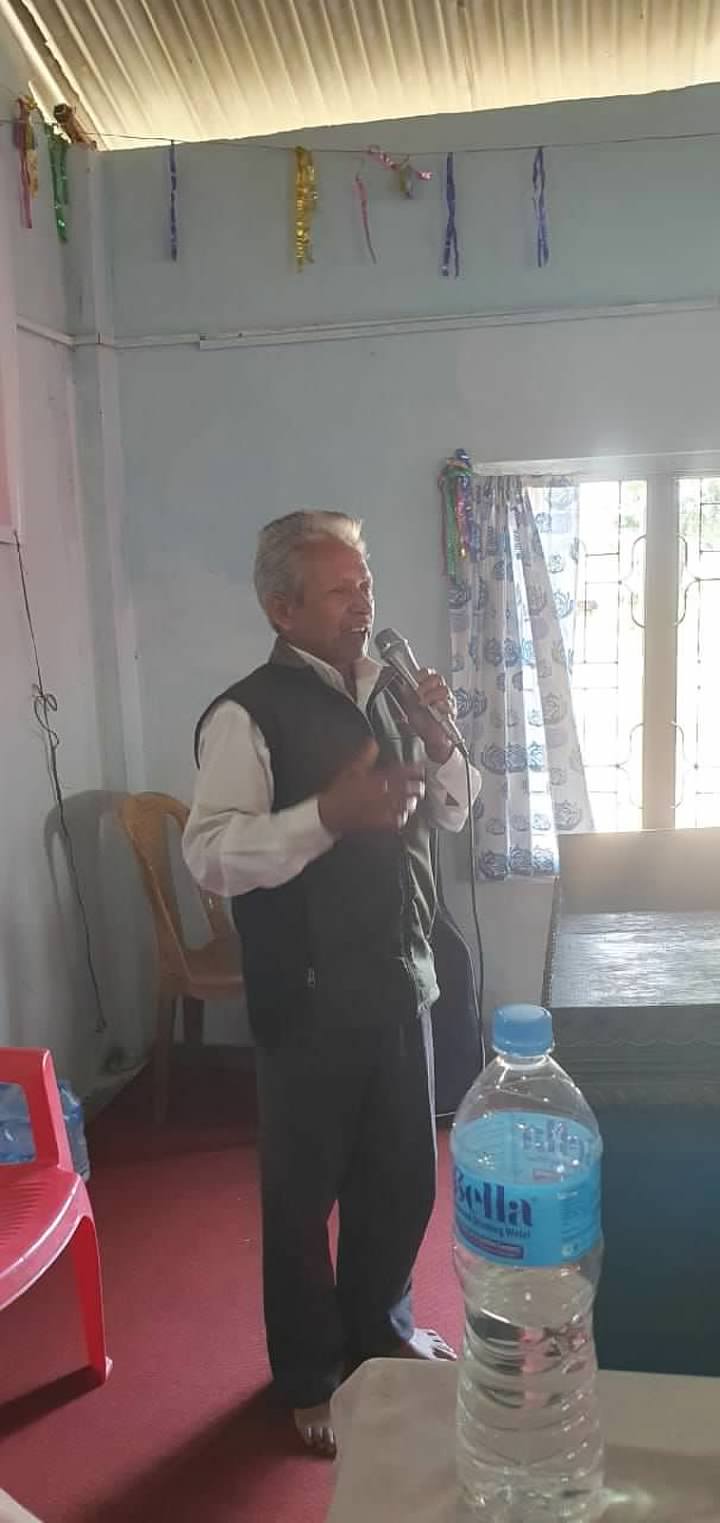 We thank and praise the Lord.
Day 3 (Gauriganj Church) – Today was the final day for The Elijah Challenge training (half day today).
.
It was pleasant to know that some of the participants here had already attended once in October 2022.
One pastor shared a testimony about a man who was in the ICU. His organs were failing and the doctors had informed that he would die. This pastor had attended TEC training in October 2022. He spoke to the man over the phone and rebuked the infirmities and commanded healing in the Name of Jesus. The man felt better. The pastor explained to him that he had used authority in the Name of Jesus and that later he would visit him in the hospital and lay his hand for the Lord's power to flow. This man was not a believer. When he was speaking to this pastor, he asked if he had to accept Jesus before the pastor could pray for healing. The pastor told him that all these will come later. First, let him be healed. This man is a believer now and he attended the The Elijah Challenge training here. He also brought another young boy to the Lord. It is such a joy to see the fruits from the October 2022 visit and how the Lord is multiplying His grace and blessings upon His people. (Back in October 2022, I had wondered if it was worth it to come all the way to Nepal, would people do justice to the training and reap a harvest? I had brought my concerns to the Lord and He had gently and lovingly impressed upon my heart not to be concerned about the fruit, but just to obey Him). Today, I am seeing the fruit. I thank and praise our Loving Lord.
I thank and praise the Lord for Pastor William and Lucille. The Holy Spirit taught them and they have passed on these teachings to us. I keep on hearing from participants that they have never been given such teachings and how 'life transforming' The Elijah Challenge training is. Participants shared that they did not feel like going home after the sessions were over. There is so much hunger and thirst in the people here to experience the Lord in a deep way.
At the end of the training, one of the pastors of the organizing team could not control his emotions. It was raining here the past few days before the training started. He was concerned and prayed earnestly to the Lord. And the Lord assured him that many people will experience His blessings through The Elijah Challenge training. The weather has been so pleasant all the days of training here. They were expecting around 60 or 70 people to attend. And there were about 100 registrations. Praise the Lord!!
There were many testimonies of healing from yesterday's practice, homework and today's practice time. Some people had brought others who were not believers. One man, who was not a believer, was healed from headache and deafness. He was able to hear. Praise the Lord!! One pastor shared Christ with him.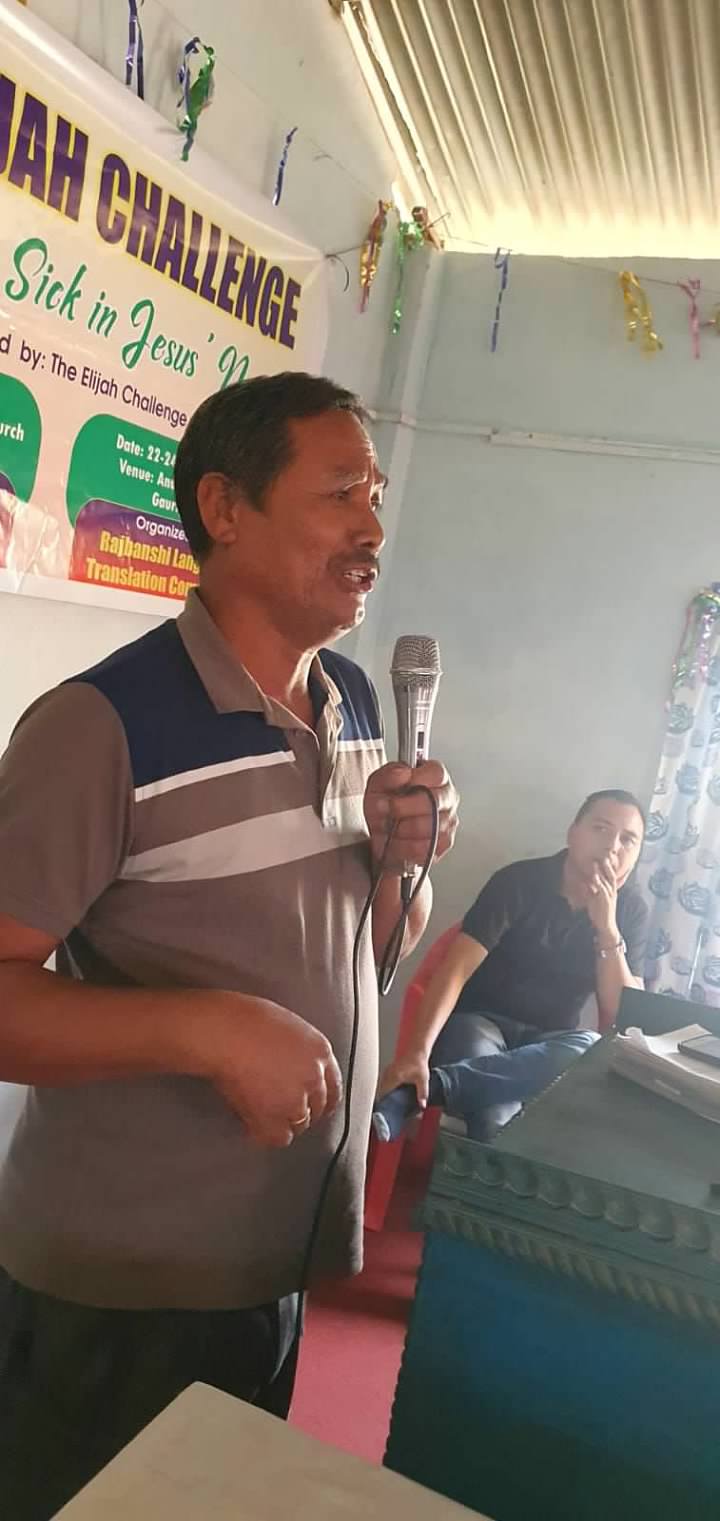 Another lady had pain in her fingers. She experienced relief from pain. She heard the Good News of our Lord and invited Lord Jesus in her heart. The lady who brought her will now disciple her.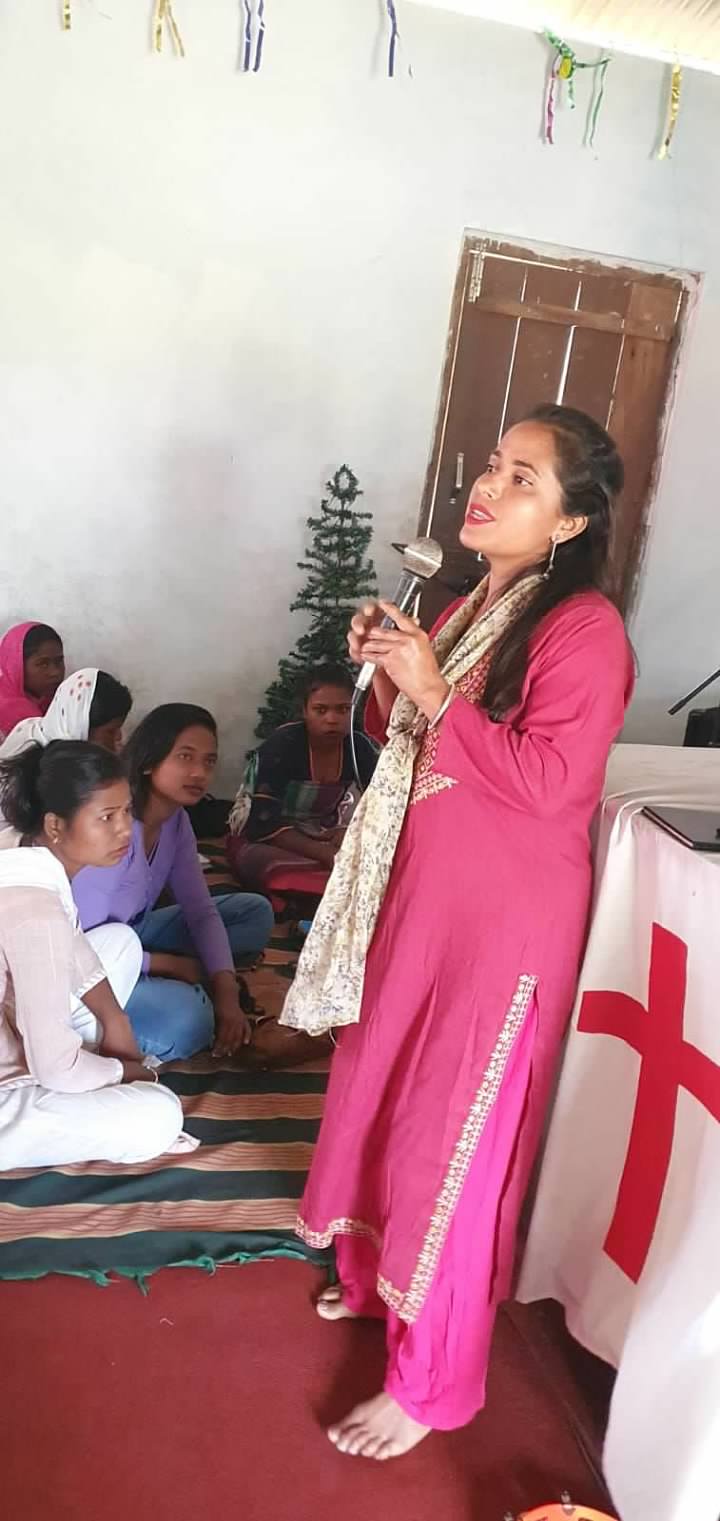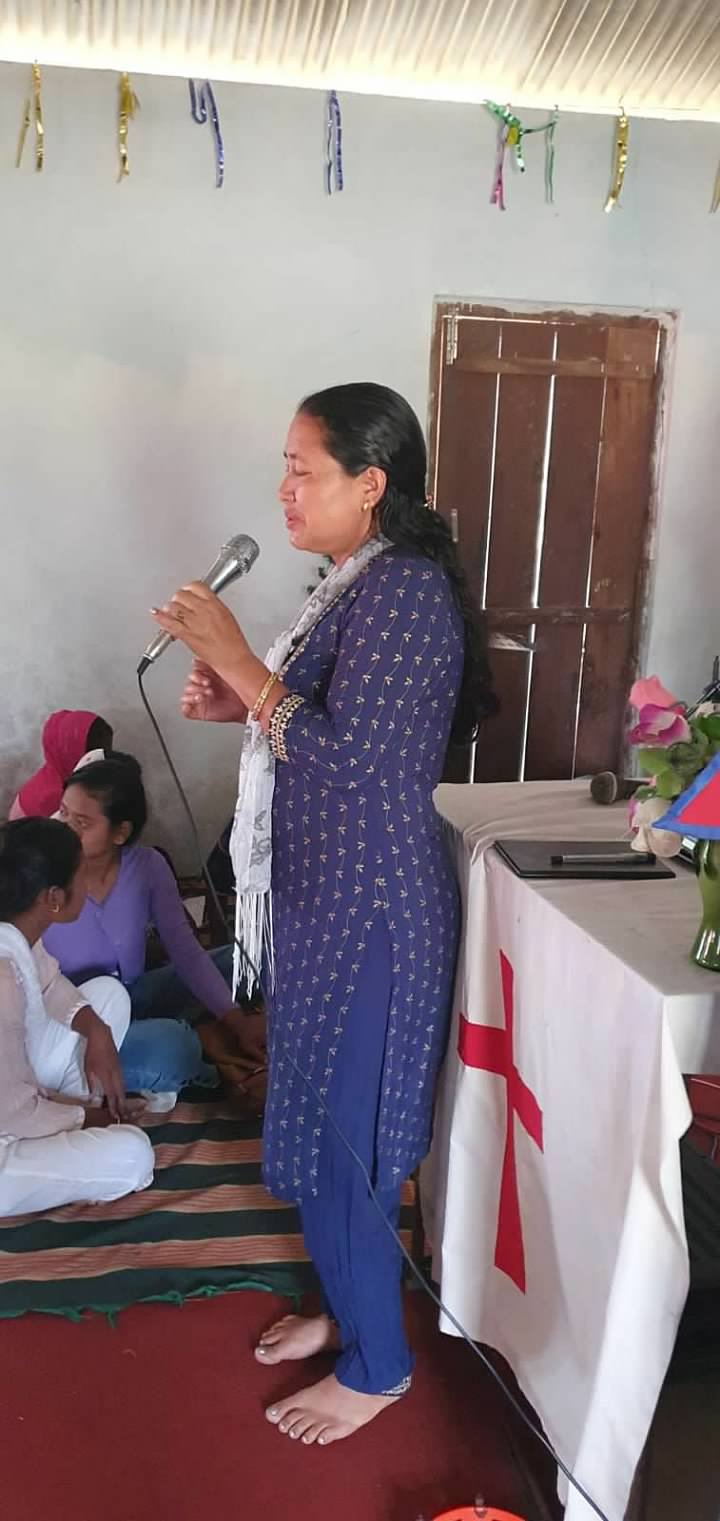 After the training was over, the pastors of the Rajbanshi community and some other communities wanted to have a meeting. They want The Elijah Challenge training for more people further inside Nepal. One pastor made a confession and others agreed with him when he said – "We pastors were sleeping all this while. Now we have woken up." He further said – "The axe which is used to cut trees needs sharpening. We know many things but it does not work when we try to implement them in our villages." He was asking for help in equipping them, on behalf of the other pastors too.
One pastor shared that in the last 10 years, their church had grown by hardly 10 new people.
I thank and praise the Lord for the humility and openness of these pastors to openly share about their shortcomings. And I thank and praise the Lord that things are changing now.
Now, there is a lot of enthusiasm and anticipation amongst the pastors. We discussed how to grow the church strategically. They are requesting for more training and equipping. They all believe that now is the time for a great revival in this region of Nepal.
Just yesterday, I was pondering upon the fact that some pastors here have attended the The Elijah Challenge training twice (in October 2022 and now in March 2023). One pastor was helping me with translation when I was teaching. I was telling the Lord that now they are ready. They do not need someone to travel all the way to Nepal and teach in English and then for one of them to translate in Nepali. Now they can take it forward in Nepali themselves. Will I be required here anymore? I was asking the Lord if my ministry time in Nepal is over and if so, then where is He taking me next.
This morning, the Lord gave me two dreams/visions
First: The message was – "do not doubt what Lord Jesus can do."
Second: The Lord showed a vision – of fields full of harvest…the fields were filled with jeeps (vehicles)….all ready to go out….the crop I saw in the fields was not paddy, rice or wheat…but vehicles…ready to step out to proclaim the Kingdom of God…
A new believer below…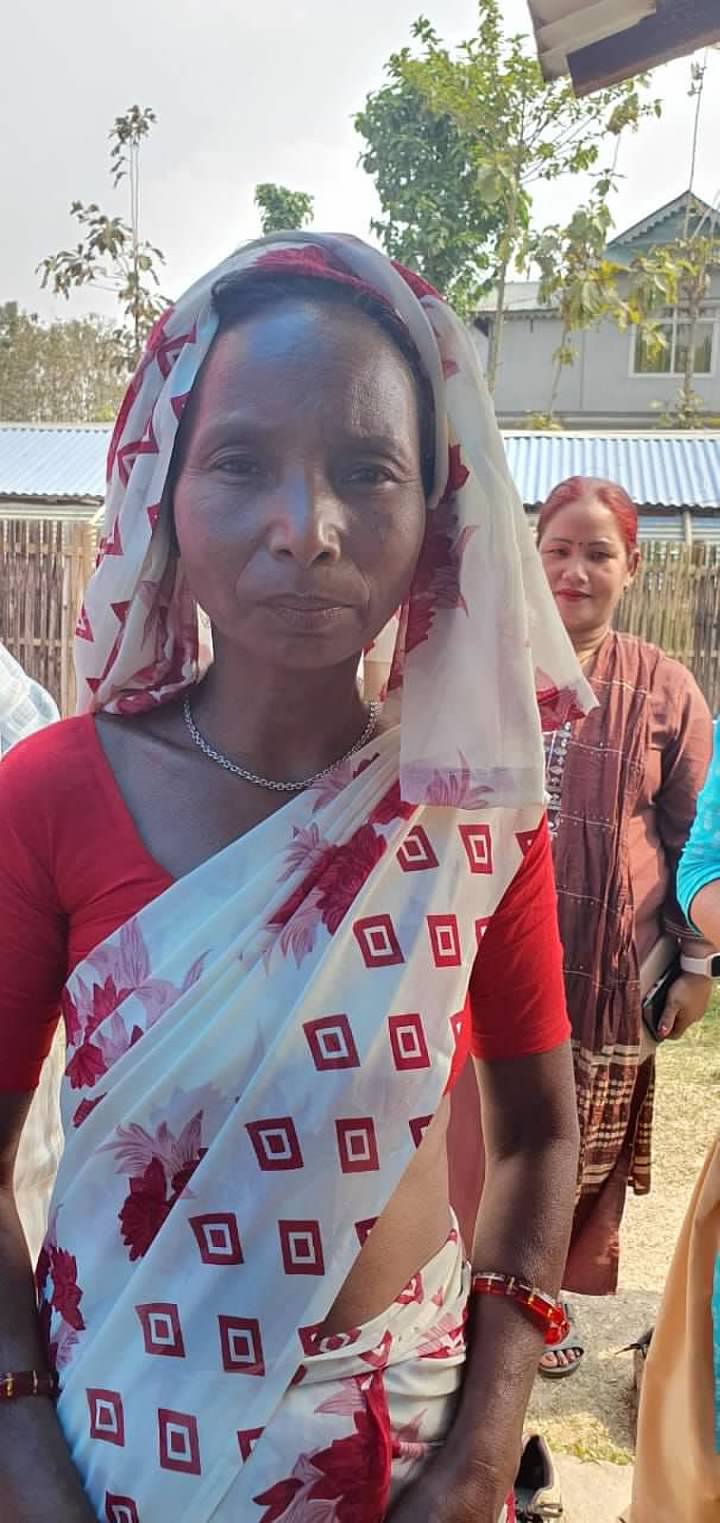 1,000 extraordinary reports of the miraculous from India